YONWAYTECH as a global professional led display manufactuer,we have a strictly LED display quality control from the raw materials to end product throughout our production progress.
To achieve the best performance for LED screen and LED display control system,yonwaytech has the strictly LED display input quality control from the materials to output quality control.
Such as LED chips,driving IC,LED module and LED cabinet to LED display panel.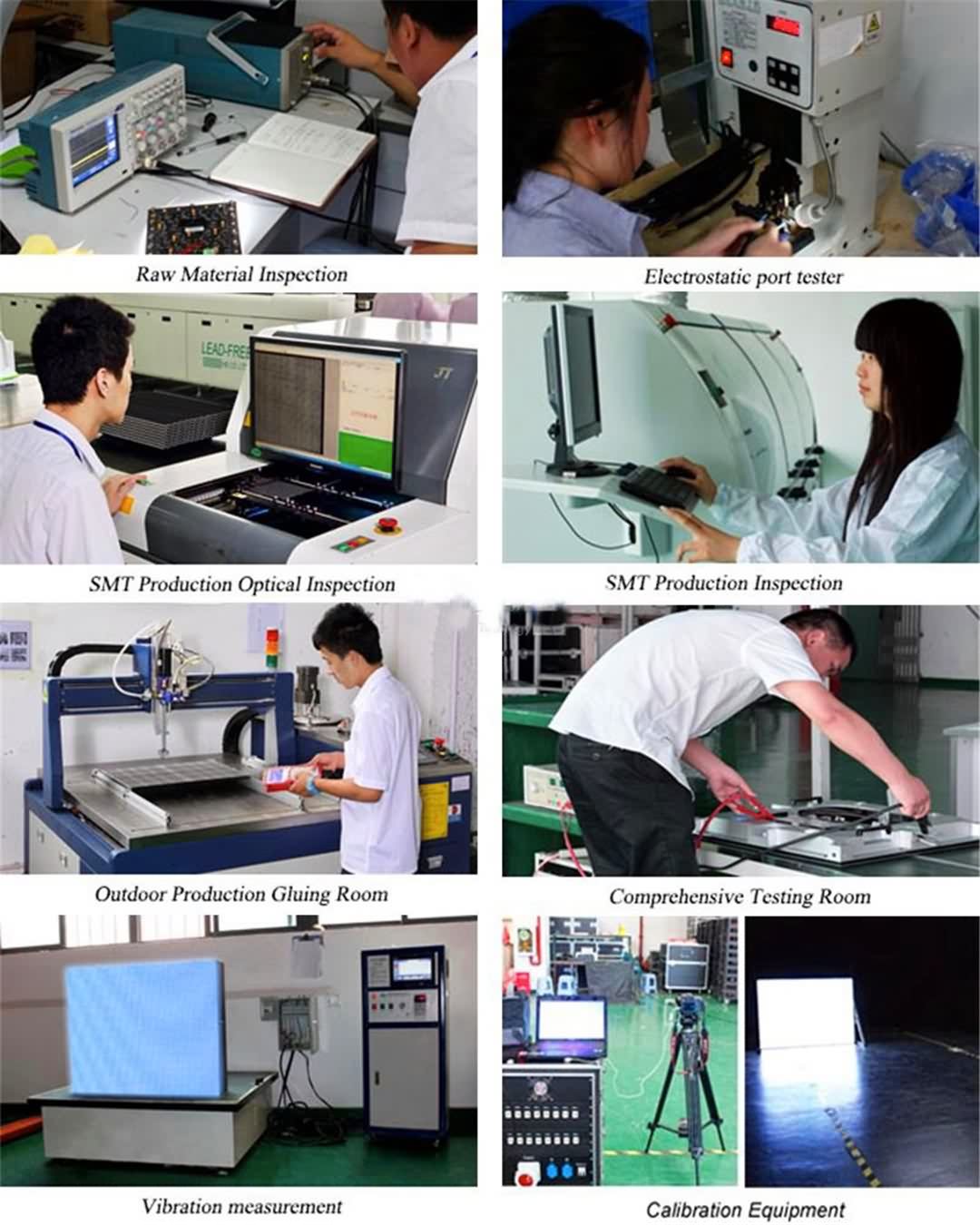 A;LED Lamps
The LEDs we use for our indoor or outdoor led display that have the high reliability and contrast,wide viewing angle and good consistency which meet the need of high refresh rate,high gray scale and keep natural color at one time with best color uniformity.

Copper wires or even customized golden wire led chip to ensure the best quality led display.
Tailored brightness led display optional for your project needs.
B;LED Module
In order to achieve the best visual performance of yonwaytech indoor and outdoor fixed or rental led display,we use the best Driving IC in our led module,such as MBI5124,ICN2038, ICN2153,ICN2053,MBI5153 with high refresh rate >1920HZ,high grey level with latest technology.
2.0mm thickness with 4 layers copper configured in our PCB board to make sure a well heat dissipation basically.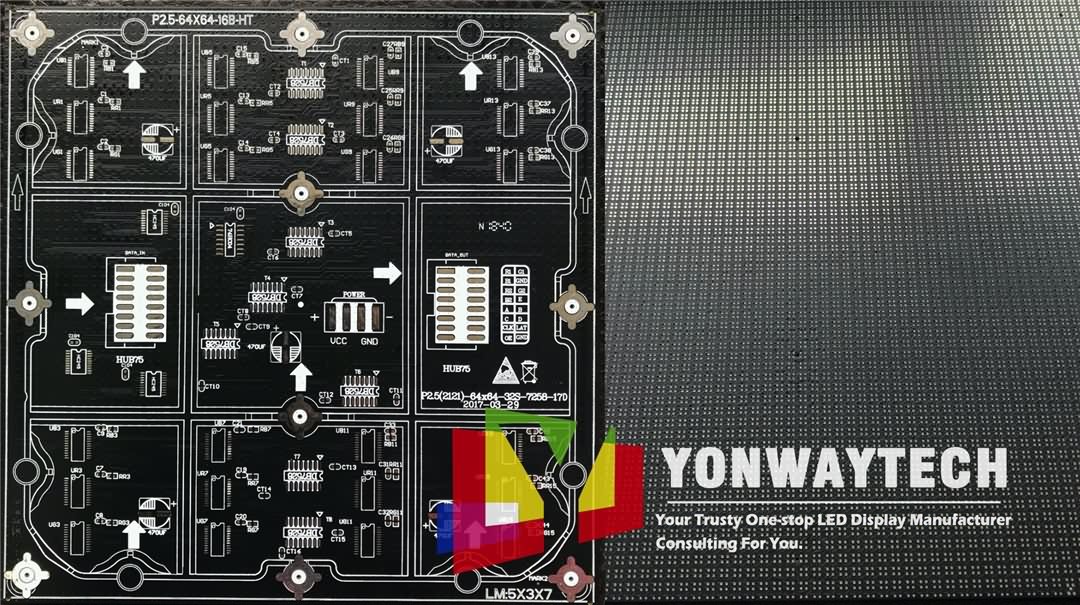 Indoor fixed p2.5 led module pcb 4 layers 2.0mm copper laying.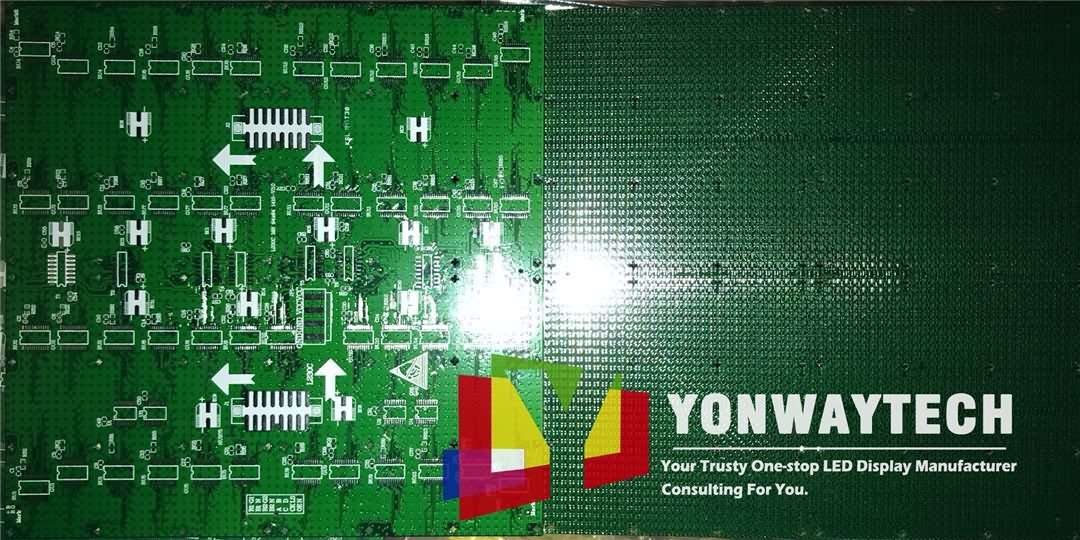 Outdoor fixed p2.5 led module pcb 4 layers 2.0mm copper laying.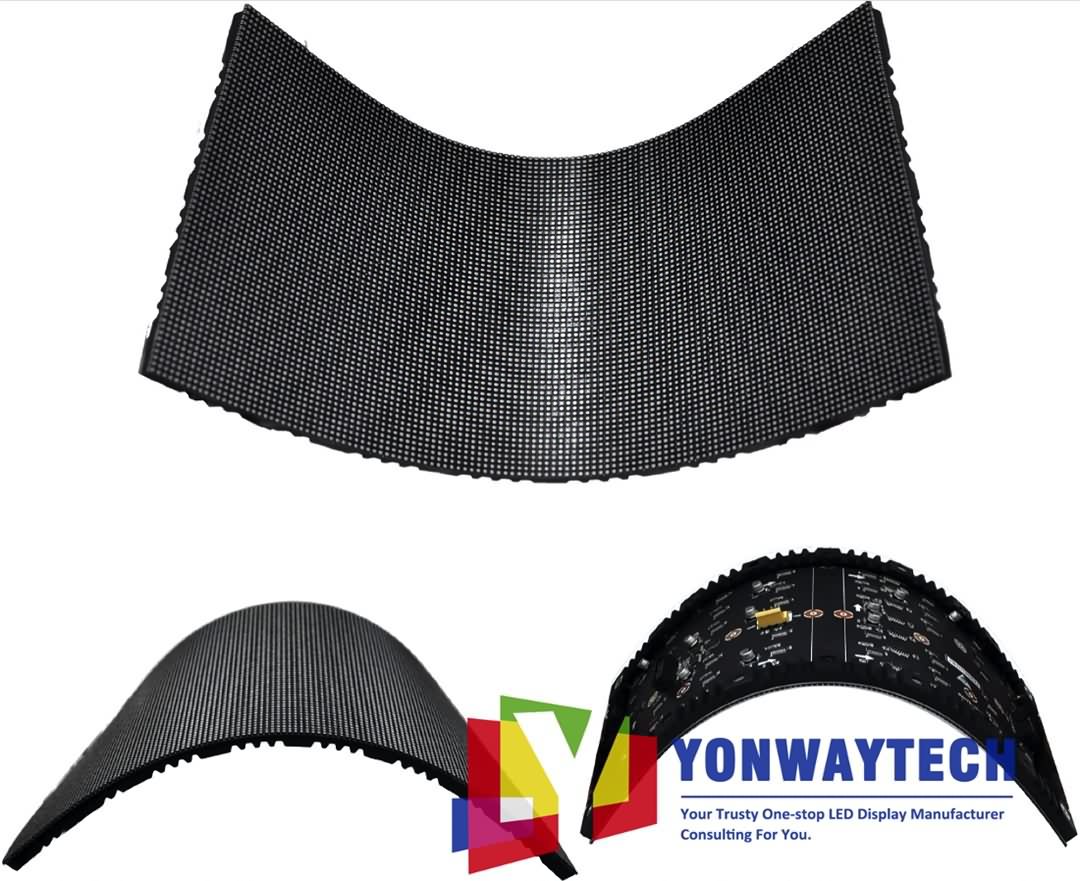 Flexible soft led module display 1.56mm ,1.875mm ,2.0mm ,2.5mm ,3.0mm ,4.0mm…etc.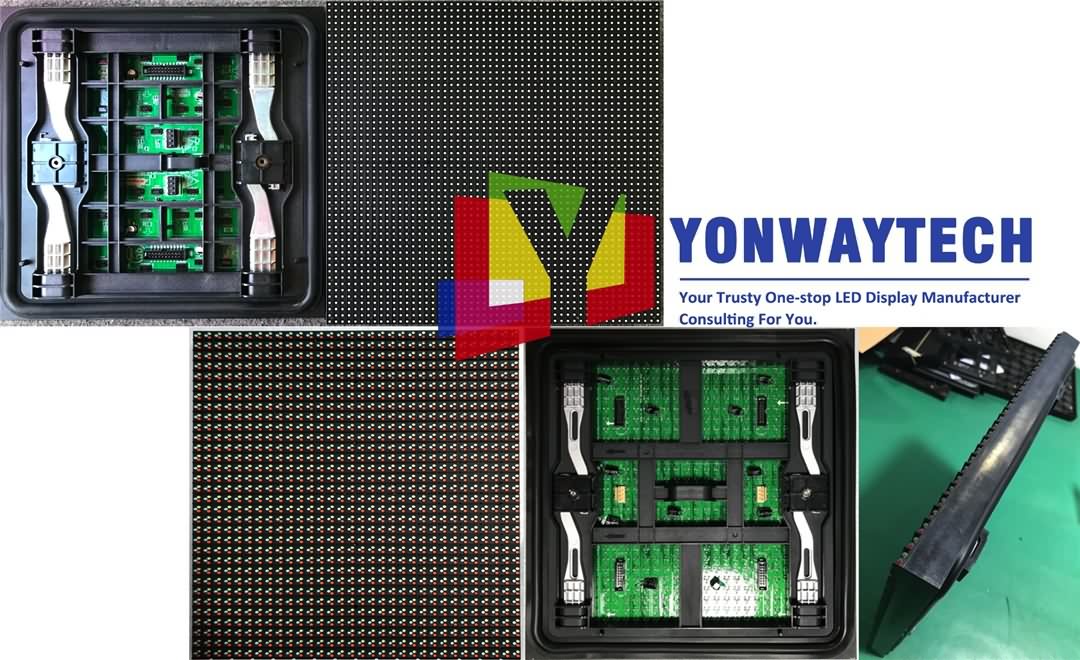 Outdoor front service led module 3.91mm ,4.81mm ,5.33mm ,6.67mm ,8mm ,10mm ,16mm(DIP)…etc.
C: LED Cabinet
All-weather for outdoor environment, can work smoothly in any weather condition.
High protection grade of IP65 guarantees, durability, reliability, Anti-ultraviolet and steady.
Outdoor IP65 water proof iron steel customized led cabinet.
Used in pixel pitch wide range of 2.5mm ,2.9mm,3.0mm ,3.3mm ,3.84mm ,3.91mm ,4.0mm ,4.81mm ,5.0mm ,6.0mm ,6.67mm ,8.0mm ,10.0mm,16mm ,20mm…etc.
Outdoor IP65 water proof die casting aluminum magnesium alloy cabinet for outdoor or outdoor use.
Used in pixel pitch wide range of P2.5 ,P2.9 ,P3.0 ,P3.3 ,P3.84 ,P3.91 ,P4.0 ,P4.81 ,P5.0 ,P6.0 ,P6.67 ,P8.0 ,P10.0 ,P16 ,P20…etc.
D;Delivery Package Details:
YONWAYTECH as your trustworthy one-stop led display manufacturer,we always do our best to provide a reliable led screen product to you,but also we survive a good cost service to our client.
Carton box for led module,power supply,led video processor,led control system or other led screen components with well waterproof tape wrapped,lighter weight to ensure cost-saving by faster delivery time by express to your hand.
Flight case for rental led display or indoor HD narrow pixel pitch led screen.
Plywood case normally for sea shipping delivery of outdoor heavy weight led display.