A Brief Analysis Of Development Trends Of Outdoor LED Displays

The outdoor LED screen market has been growing steadily in recent years with digital technology keeps changing and evolving,and the same goes to consumer's expectations, with increasing demand for for shaper, brighter, lighter, higher resolution and cheaper-to-maintain LED screens for outdoor applications in public spaces, sporting events, concerts, and other outdoor venues.
Some of the development trends in outdoor LED screens are listed as follows:
Higher LED Screen Display Resolution Needed
Outdoor LED screen usually has a large pixel pitch of 10mm or above.
With advancements in LED technology, outdoor LED screens are now capable of displaying ultra-high resolutions, such as 4K and even 8K.
This allows for more detailed and vivid images and video to be displayed, making outdoor displays more immersive and engaging.
Yonwaytech LED Display has getting fine pixel pitch as narrow as 2.5mm which is in the realm of indoor LED display territory.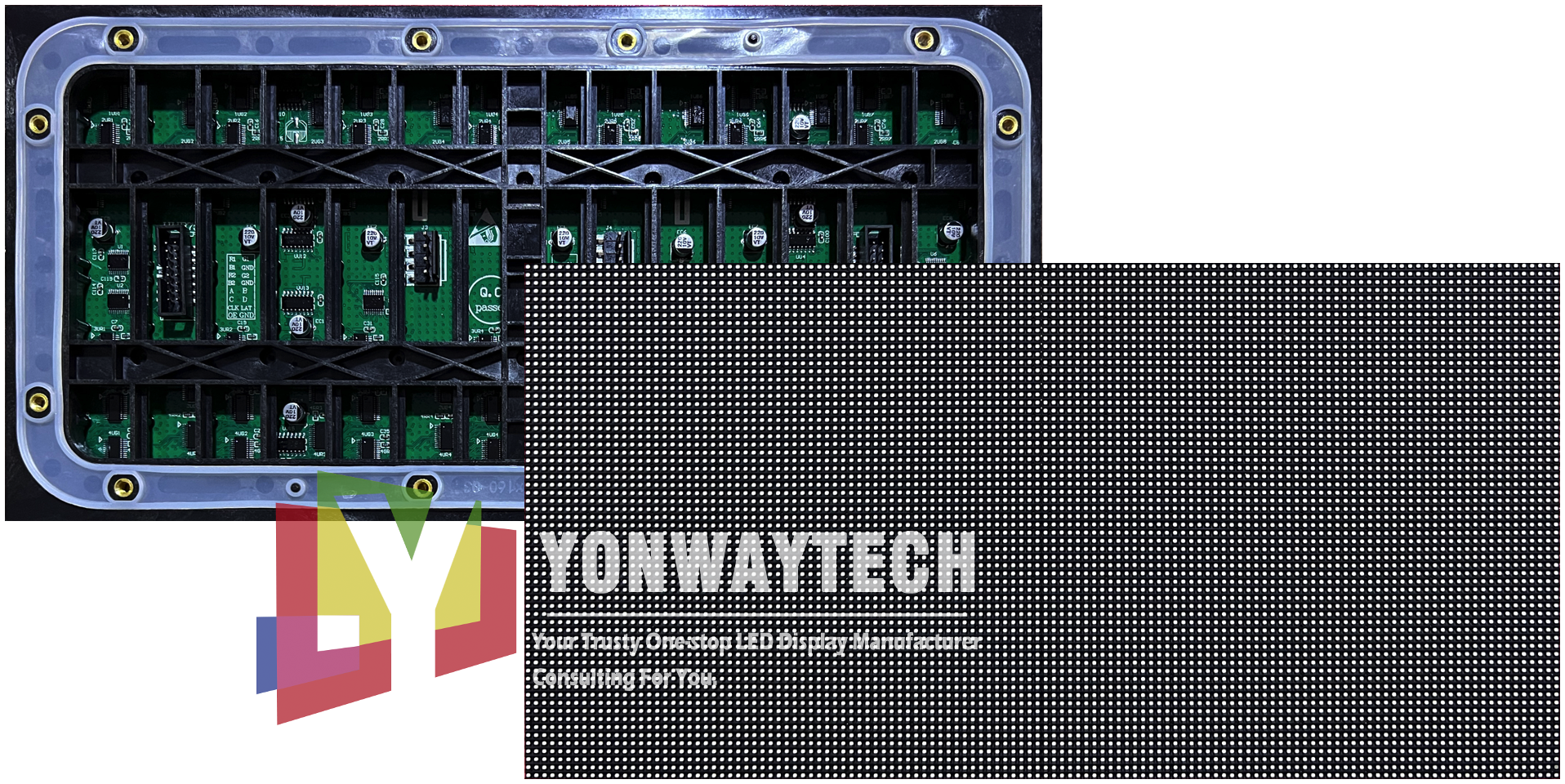 This enables outdoor LED screen to be visually sharper and have more detailed images.
Such high-density outdoor LED screen provides new applications in areas with close viewing distance while requiring the robustness and waterproofing capability of outdoor LED screen.
Naked Eyes 3D Outdoor LED Screen Interactively
Yonwaytech Naked Eyes 3D LED screen is a display technology that combines the use of 3D rendered animated videos and specially shaped LED screen display to create the illusion of three-dimensional images without the use of professional 3D glasses.
3D LED displays are highly versatile and can be designed to fit any size or shape, making them ideal for unconventional installations.
They can be curved, made into irregular shapes, and installed in hard-to-reach places, such as the sides of buildings or in public art installations.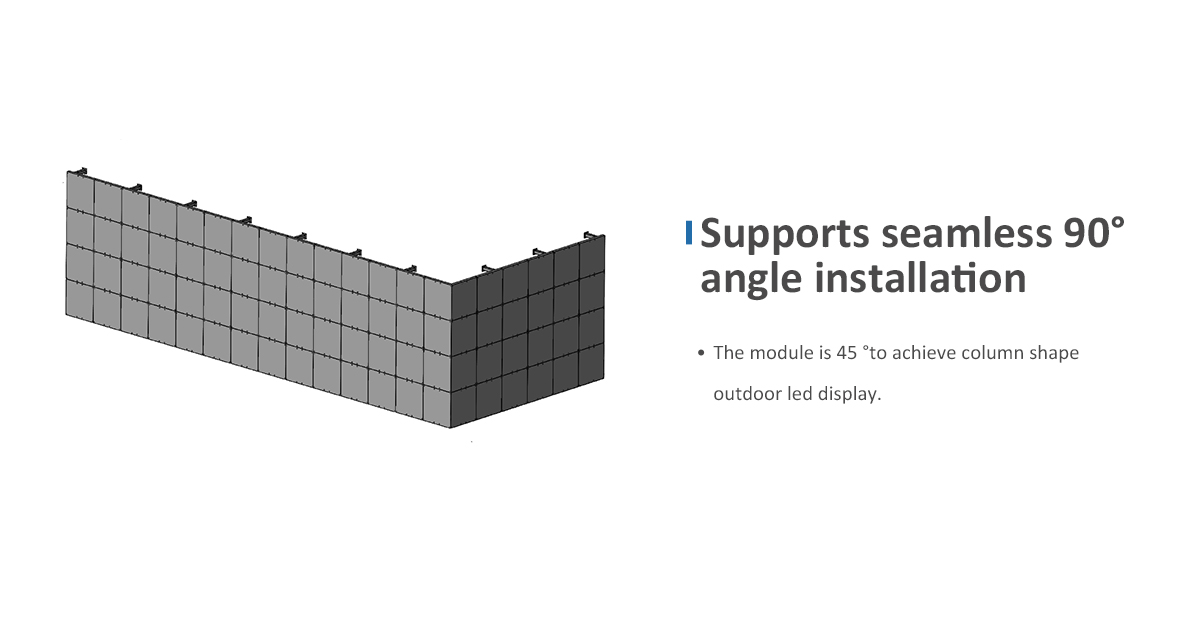 The most popular shape employed for 3D LED screen is an L-shape, where there will be two sides of rectangular outdoor LED screens join together at around 90 degrees angle. 
Several key landmarks and malls around the world have employed such design for the outdoor LED screen,which has being very helpful to promote the commercial value.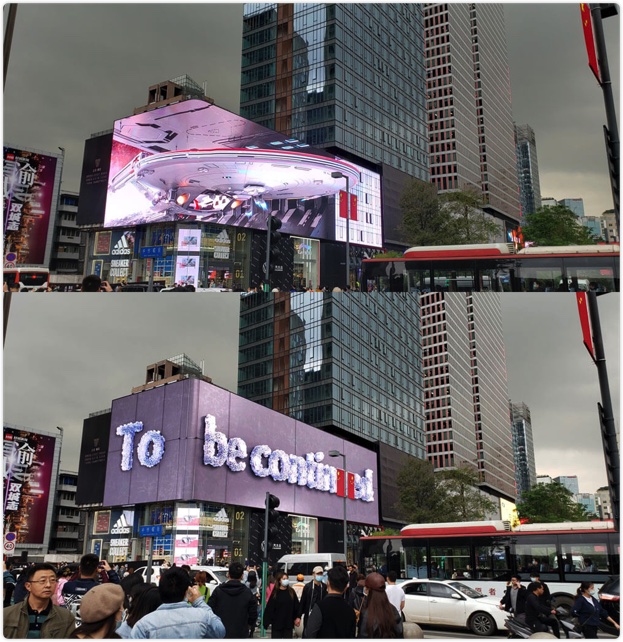 Normal 3D Outdoor LED screen uses flat module design with a right-angle joint that resulted in a black line that separates both sides of the display.
Nowadays, Yonwaytech LED Display with new LED technology enables seamless outdoor LED screen by using a special design outdoor LED cabinet panel that wrap around the corner smoothly without any pixel loss by L-shape or any other radians.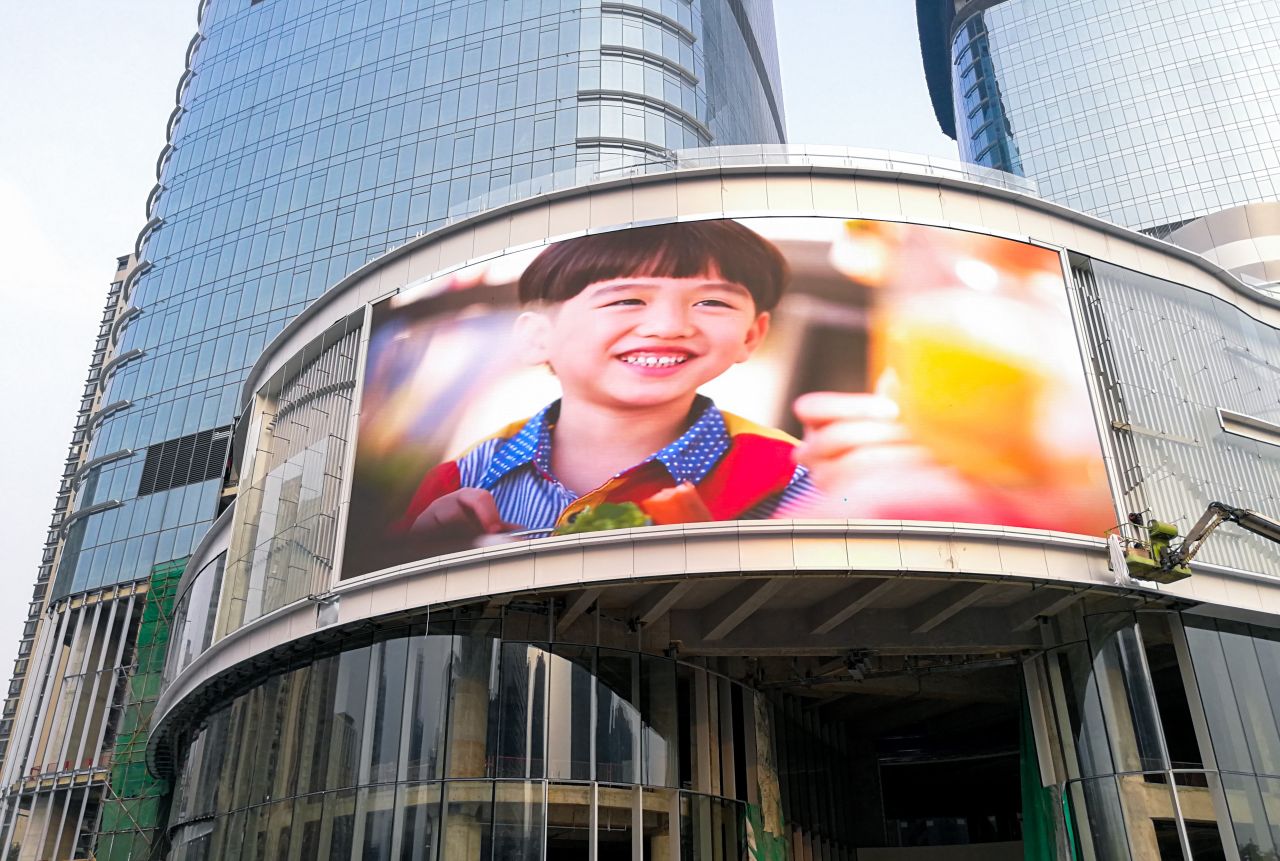 Fully Front Service LED Displays
Front Service LED Display is a type of LED screen that can be accessed and maintained from the front side of the panel.
This is in contrast to traditional LED displays, which require access to the back side of the panel for servicing and maintenance is thick and bulky due to the rear service requirement.
Front Service LED Displays are designed with a modular structure, which allows for easy installation, maintenance, and repair.
They are commonly used in outdoor and indoor environments, such as sports stadiums, retail stores, transportation hubs, and other public areas.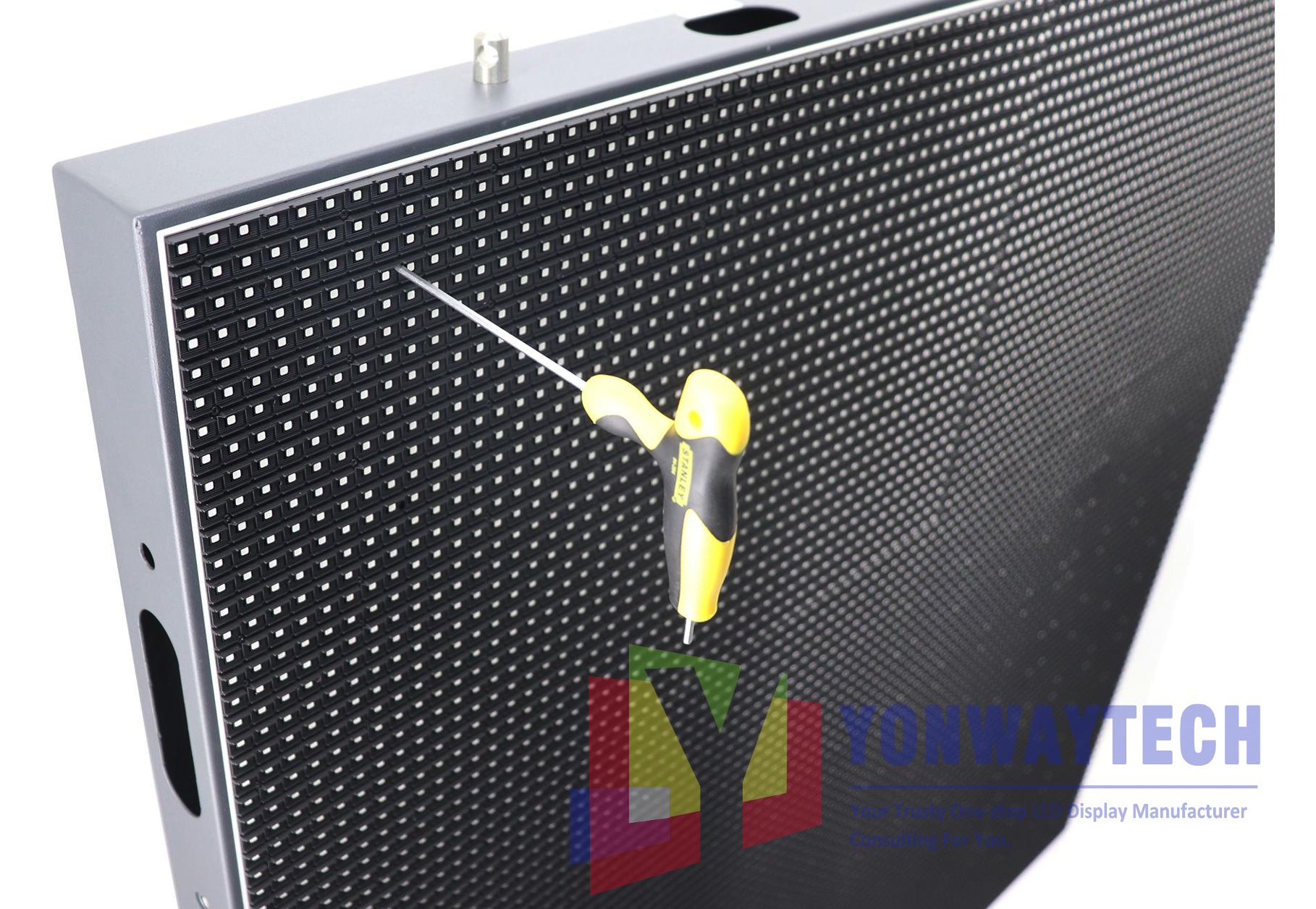 The advantage of front service LED displays is that they can be installed in locations where access to the back of the panel is restricted or difficult.
This can save time and money on installation and maintenance costs.
Additionally, front service led displays are typically thinner and lighter than traditional displays, which can be an advantage in certain applications.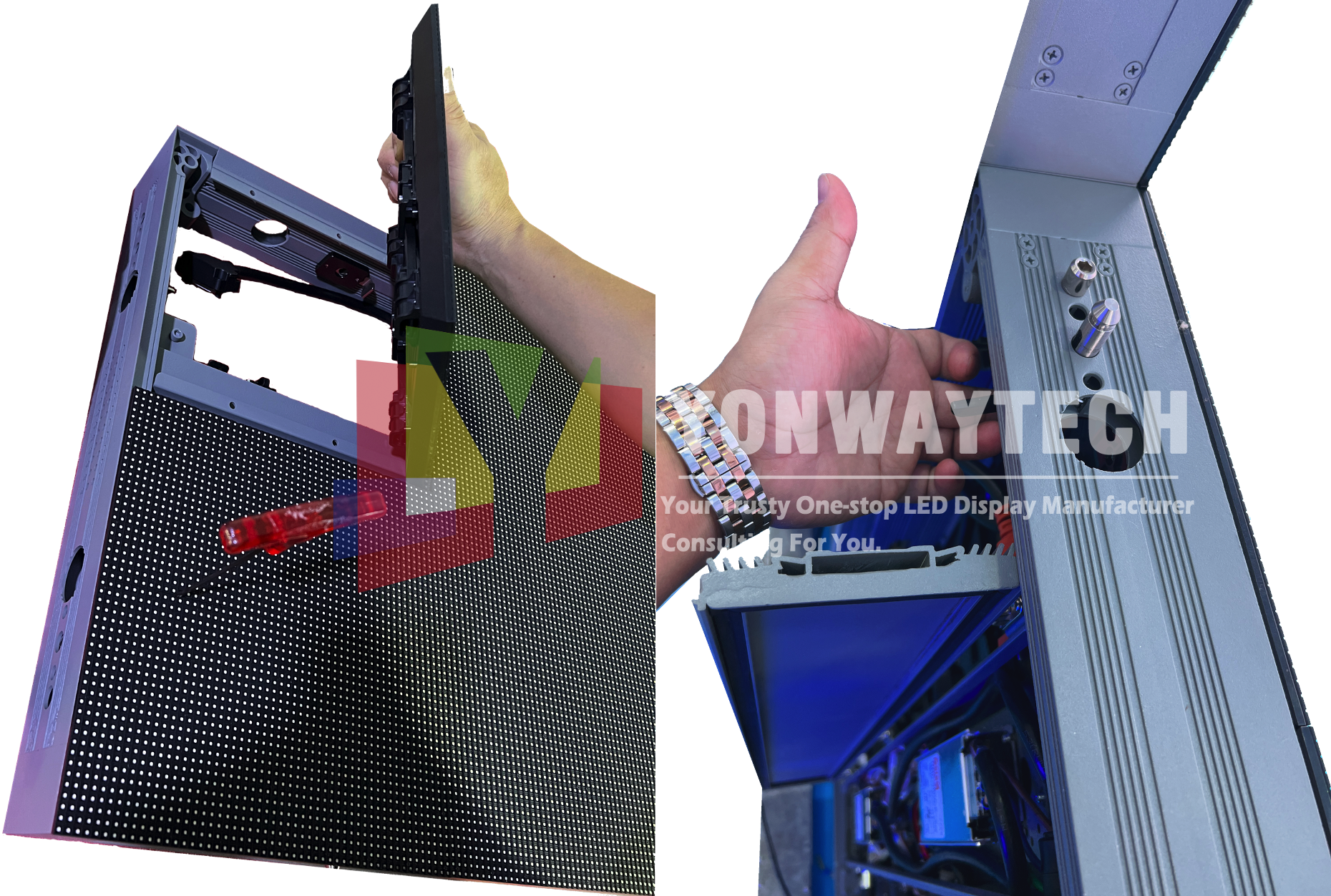 Front service LED displays from Yonwaytech LED are available in a variety of sizes, resolutions, and configurations to meet the needs of different applications.
They can display text, graphics, images, and video content, and are often used for advertising, information displays, and digital signage.
Lightweight LED Panel Design
Traditional outdoor LED screen comes with steel metal plate due to the ease of customization and lower cost.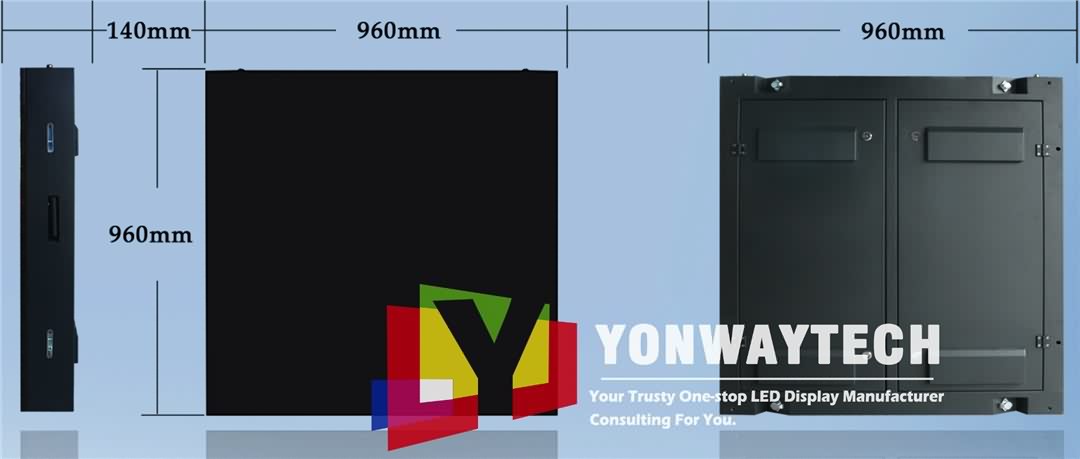 But the main drawback of using steel material is weight issue, which is a disadvantage for any weight sensitive application such as cantilever or hanging outdoor LED screen.
A thicker and sturdier structure design is required to support a heavy outdoor LED screen, elevate the weight issue further.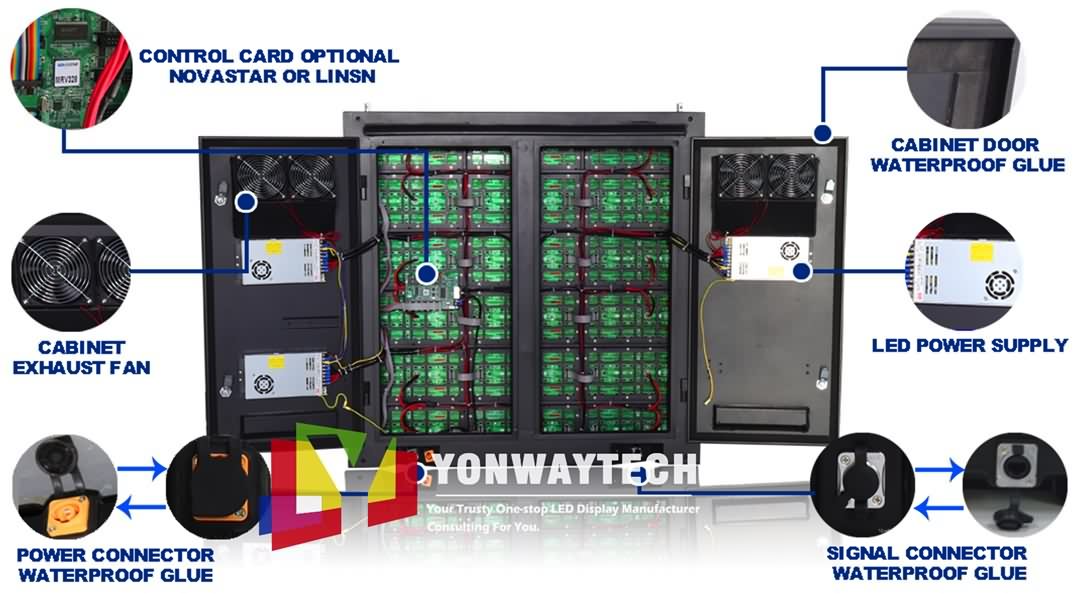 Lightweight LED display cabinet is a type of cabinet used in outdoor or indoor LED displays that is designed to be lightweight and easy to install.
These LED cabinets are typically made of lightweight materials such as aluminum or magnesium alloy or even carbon fibre, which helps to reduce their overall weight while still maintaining durability and structural integrity.
The most cost-effective option of the three options above is aluminium alloy, which allow for great weight saving over steel material and cheaper compared to magnesium alloy and carbon fibre.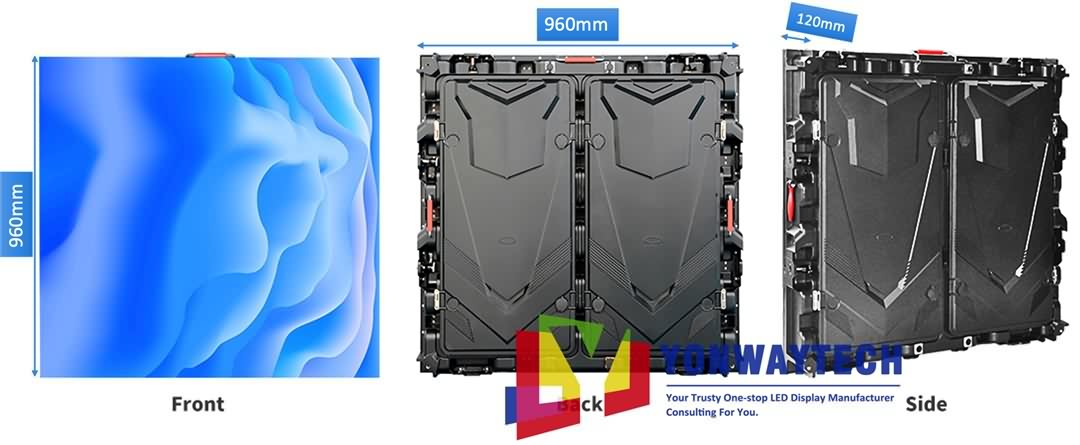 One of the primary advantages of using a lightweight LED display cabinet is that it makes installation and maintenance much easier,which designed with a modular structure and allows them to be easily assembled and disassembled for transportation and installation.
Additionally, the lightweight construction of these LED panels means that they can be mounted onto a wider range of surfaces and structures, making them more versatile and adaptable to different environments.
When choosing a lightweight LED display cabinet, there are several factors to consider.
One of the most important is the cabinet's size and weight, as this will impact its portability and ease of installation.
Additionally, you'll want to consider the cabinet's structural integrity and weather resistance, as outdoor displays will need to be able to withstand the elements.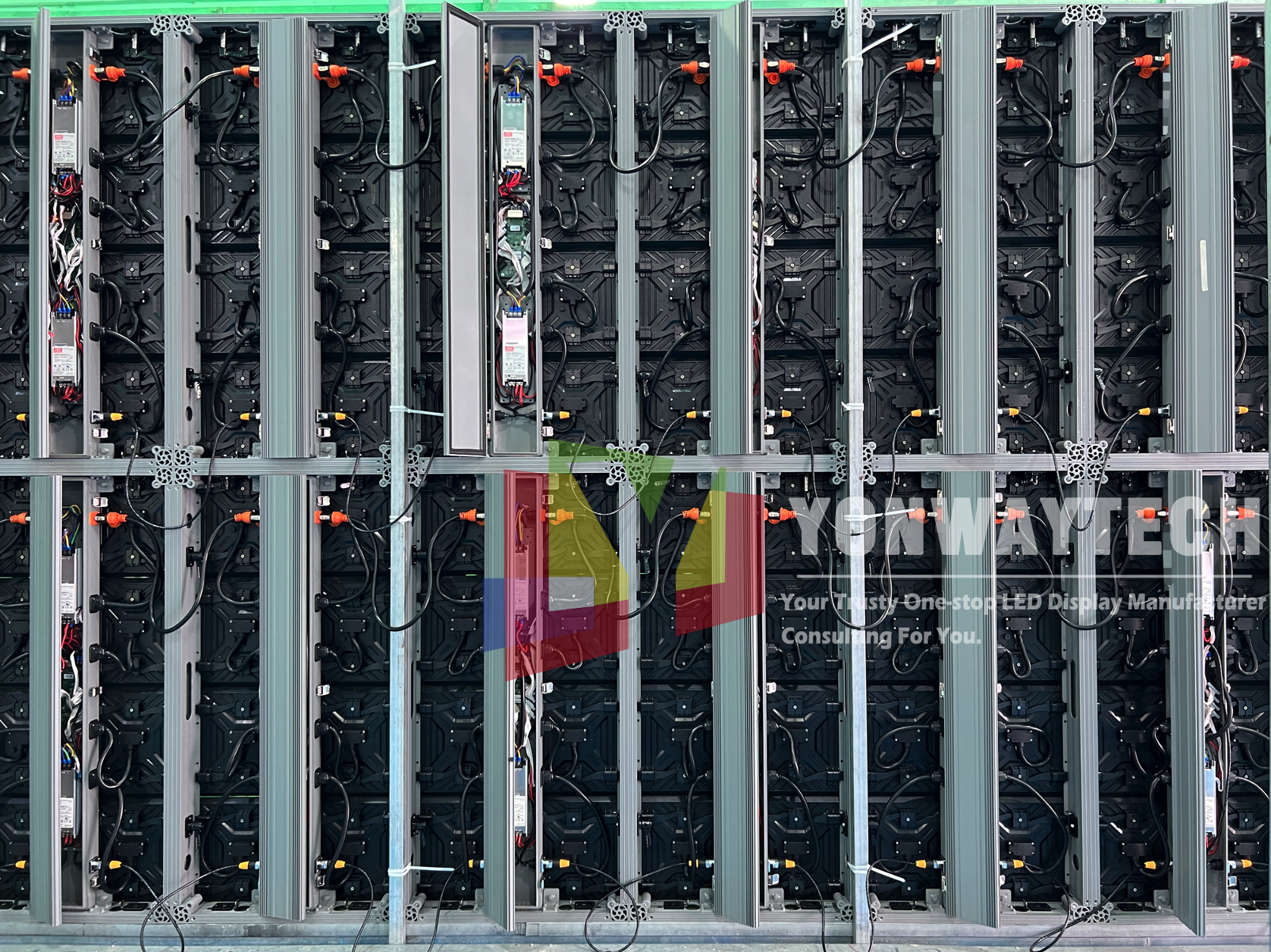 A high-quality lightweight LED display cabinet can be an excellent choice for anyone looking to create a professional-grade LED display that is easy to install and maintain.
Whether you're using the display for advertising, entertainment, or information sharing, a lightweight LED display cabinet can provide the durability and functionality you need while still being lightweight and easy to work with.
Fan-less Operation LED Displays
Fan-less LED display can function without making any noise, making it an ideal choice for settings that require quiet operation such as libraries, hospitals, and conference rooms.
Yonwaytech aluminium alloy extensively in the outdoor LED screen design, heat dissipation level increases over traditional steel material.
One of the main advantages of fan-less LED displays is that they are more energy-efficient than displays that require a fan.
This is because the fan consumes power and generates heat, which can reduce the overall efficiency of the display.
Additionally, a fan-less design reduces the overall complexity of the display, making it more reliable and easier to maintain.
To achieve fan-less operation, Yonwaytech LED displays typically use advanced cooling technologies such as heat sinks, which are designed to dissipate heat efficiently without the need for a fan.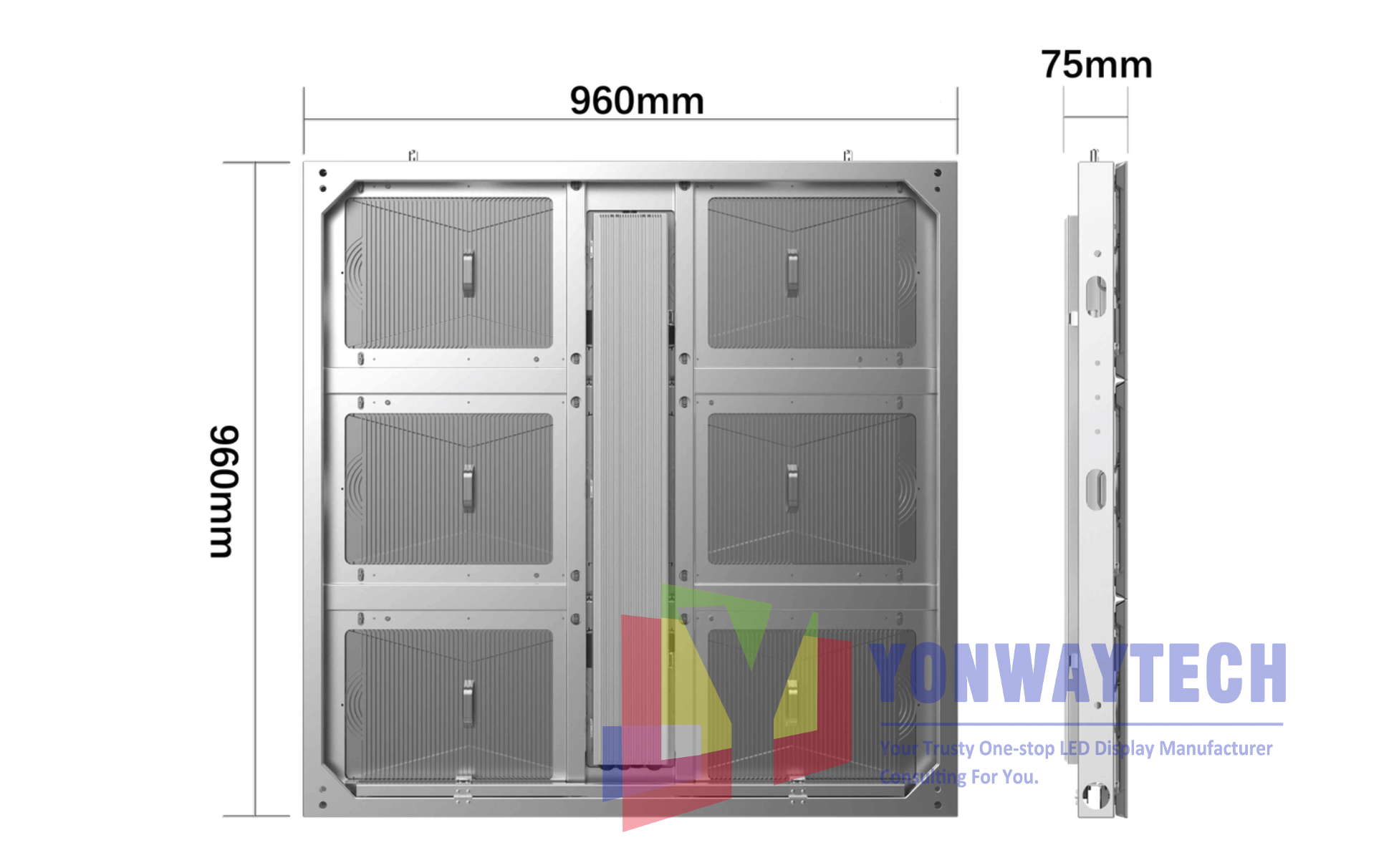 Yonwaytech LED displays may also incorporate features such as temperature sensors and automatic dimming controls to help regulate the temperature of the display and prevent overheating.
Fan-less operation LED displays from Yonwaytech offer a reliable, energy-efficient, and quiet solution for a range of applications that require silent operation and green sustainability design.

Furthermore,the only moving/mechanical part in an outdoor LED screen is ventilation fan,which has a definite lifespan and will breakdown over time.
Yonwaytech Fan-less outdoor LED screen eliminate this potential breakdown altogether.
Outdoor LED Screen Superior Weather Resistance
Outdoor LED screens are known for their superior weather resistance compared to other types of displays from IP65 / IP67 or even IP68.
This is because they are designed to withstand a wide range of environmental factors such as extreme temperatures, high humidity, and exposure to rain and sunlight.
One of the key features that make outdoor LED screens resistant to weather conditions is their sturdy construction.
They are usually built with robust, durable materials such as aluminum, stainless steel, and tempered glass.
These materials help to protect the delicate electronic components inside the screen from damage caused by moisture, dust, and other outdoor elements.
Another factor that contributes to the weather resistance of outdoor LED screens is their specialized coatings.
These coatings are designed to protect the screen's surface from scratches, UV radiation, and other forms of wear and tear that can occur over time.
In addition,Yonwaytech outdoor transparent LED screens often come equipped with advanced ventilation and cooling systems that help to regulate the temperature inside the screen.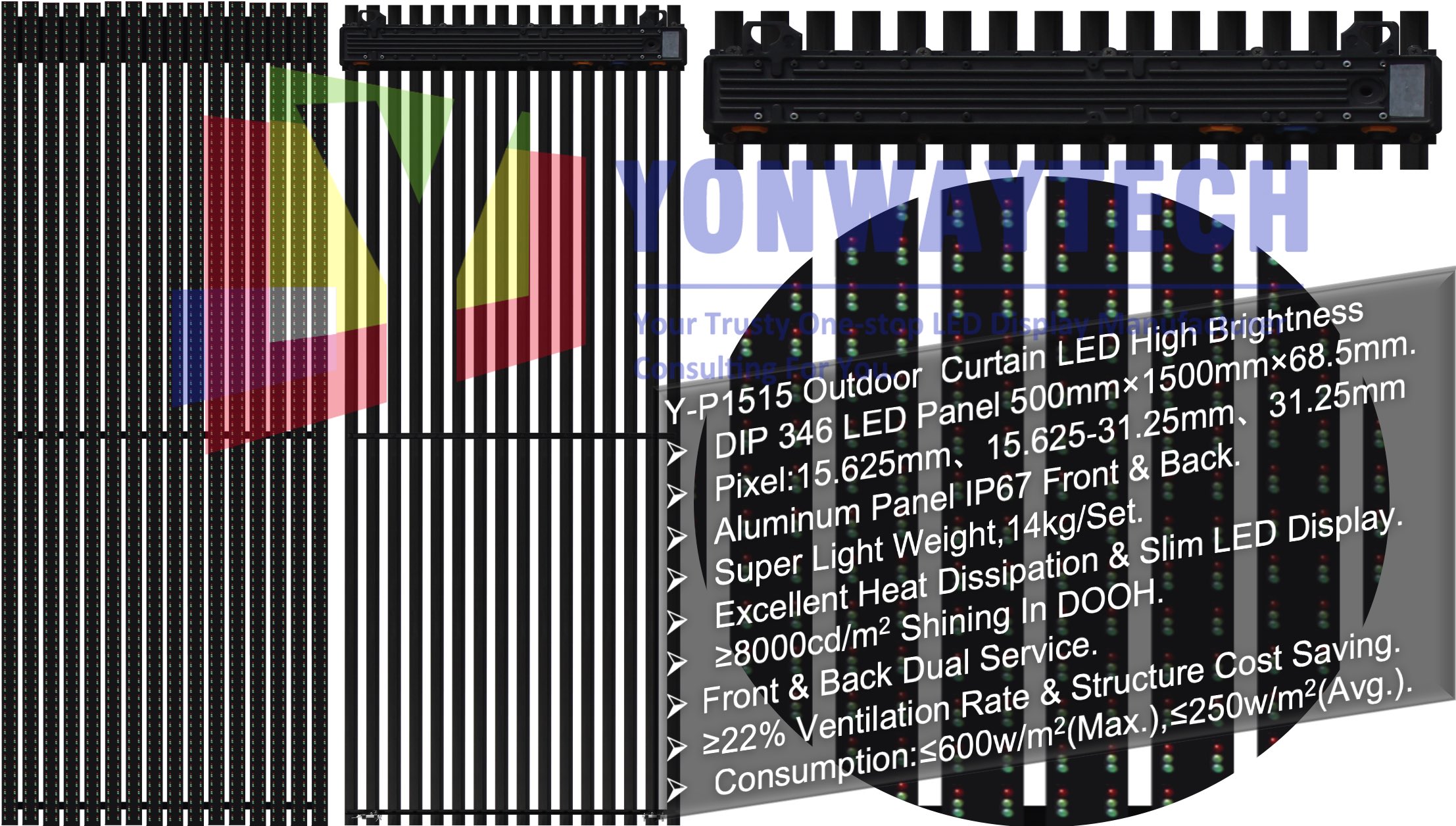 Yonwaytech aluminium LED module design that enables IP66 rating on both front & rear surface of the outdoor LED screen without any mechanical part.
The switching power supply unit and LED receiving card are also fully enclosed in an aluminum compartment with heatsink design.
This helps to prevent overheating and other forms of damage that can be caused by exposure to high temperatures and direct sunlight in any venues with harsh operating environments,the weather resistance of outdoor LED screens is one of their key advantages, making them ideal for use in a wide range of outdoor settings, including sports stadiums, concert venues, public squares, and other public spaces.
Outdoor LED Display With Lower Power Consumption & Maintenance Costs
With years of LED screen development in the industry,Yonwaytech Launching Energt-saving LED driving method known as common-cathode has emerged to reduce the energy consumption by as much as 50%, compared to common-anode LED driving method.
Yonwaytech energy-saving LED display is a type of LED display that each LED has its own anode connection, which is controlled by a driver circuit.
In a common-cathode LED display, all the cathodes of the LED segments are connected together, and each segment's anode is individually controlled.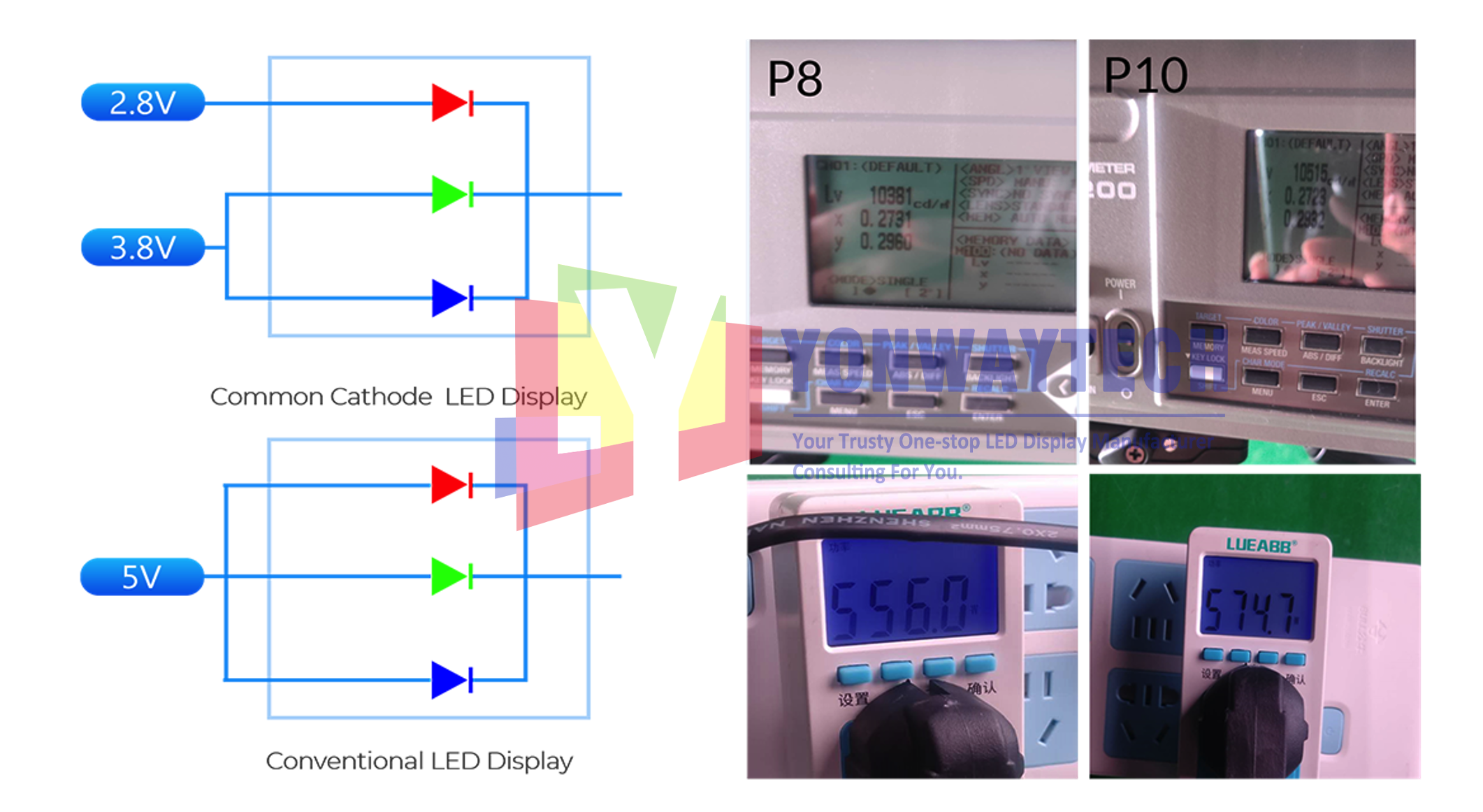 The advantage of a common-cathode LED display is that it allows for greater energy efficiency.
This is because the common cathode allows for shared current among the segments, reducing the amount of current required to light up the display.
This, in turn, reduces power consumption and heat dissipation, which can help prolong the lifespan of the LED display.
It is especially useful for outdoor LED screen where high power consumption is required for high brightness output for visible images under bright sunlight.
Outdoor LED Screen from Yonwaytech energy-saving series can be specified with this common cathode LED driving method to reduce the energy consumption.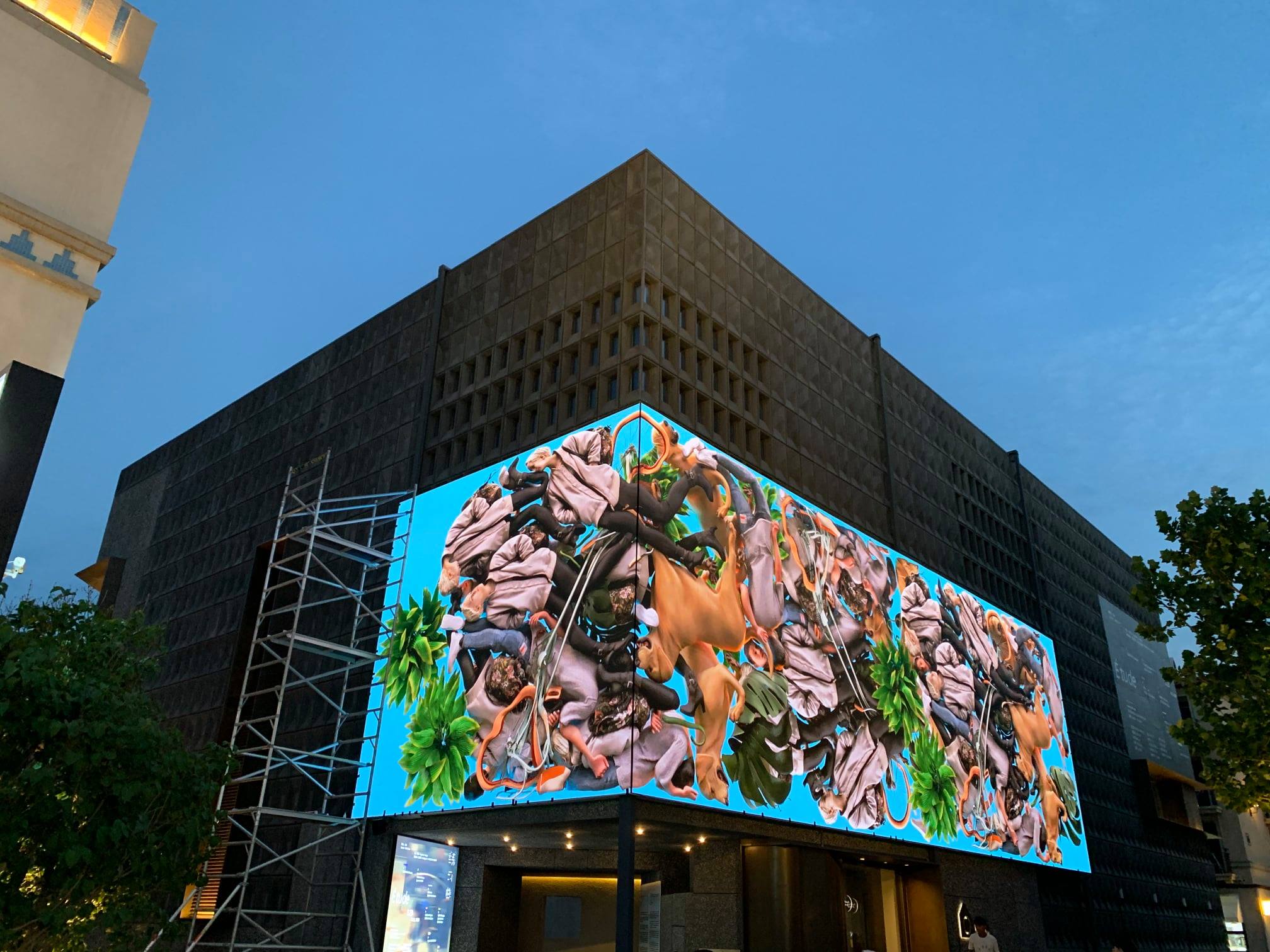 Yonwaytech outdoor LED displays also can be designed with features like automatic brightness adjustment, which allows the display to adjust its brightness according to the ambient light conditions.
This helps to reduce energy consumption and minimize light pollution especially in the night operation.
Therefore,the operation & maintenance costs can be further lowered with Yonwaytech LED Display, improving the return of investment (ROI) and high screen uptime availability for advertisers.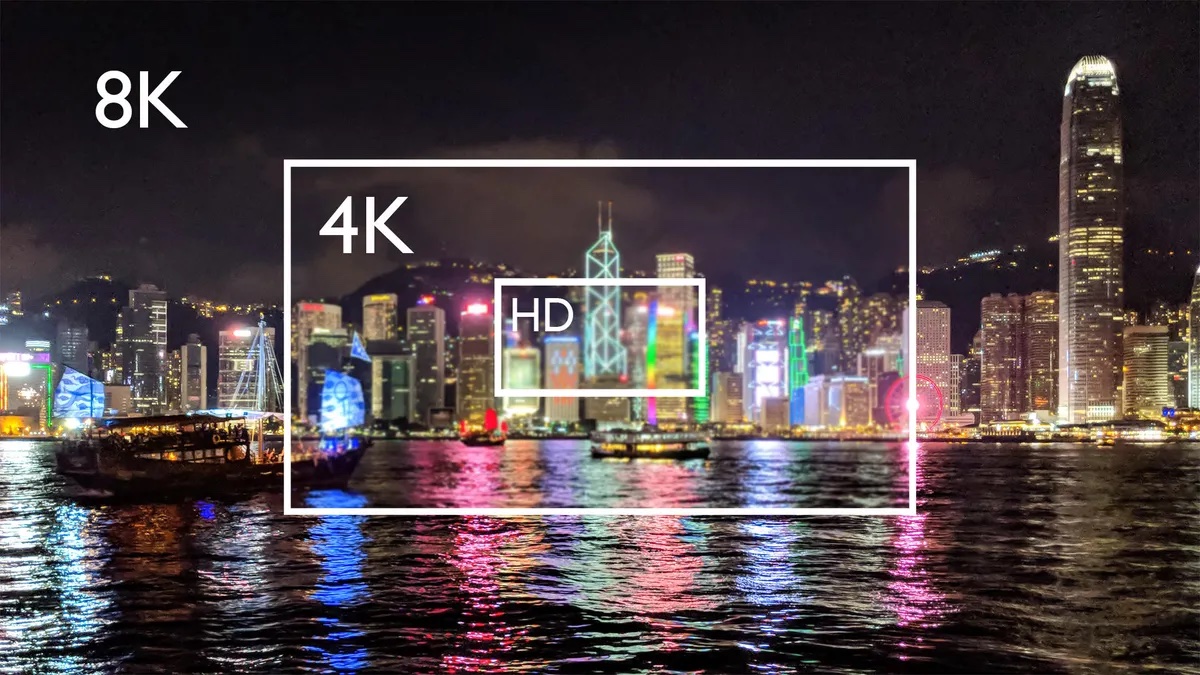 LED Display technology of Outdoor LED screen keeps on evolving in accordance to market needs.
Unlike indoor LED screen, outdoor LED screen design requires proper consideration of shape, resolution, front or rear accessibility, weight, energy consumption, operation and maintenance costs.
Selection of a good outdoor LED screen product is essential to the success of a digital display investment.
A properly designed product from Yonwaytech LED Display guarantees long lasting display performance with a peace of mind product ownership.
Contact with Yonwaytech LED Display for a systematic solution.
---
Post time: Apr-04-2023