Yonwaytech Intelligent Perimeter Sport LED Display
Fast installation and maintenance LED perimeter display cabinet design.
Soft protection kit design to protect players from harm, more safer during the match event.
Humanized appearance design protects the personal safety of the athletes and plays a role in the design of the stadium.
Negative pressure Heat-dissipation system, further guarantees the reliability.
Remote monitoring status of LED Display
HIGH BRIGHTNESS up to 6500nits/sqm with vivid high refresh rate video without any flicker .
Yonwaytech Perimeter displays make it easy to highlight your sponsors throughout the facility.
Change these up throughout the game to capture your audience's attention and create more interest in your advertisers.
Fine standard cabinet with no obvious gaps between the cabinets.
Non-deformability function keep the screen in a good shape and smoothly.
Aerofoil fan cooling immediately,4 fans configured in each stadium led cabinet, ventilation volume is 5.6 cubic meter per minute, air circulation 20 times very minute inside the led cabinet.
High efficiency cooling.
Cabinet option A– the classical iron black lacquered cabinet:
Iron steel material with heat treatment, covered with anti-corrosion waterproof protective film, can extend the service life, improve heat resistance.
In addition, the cabinet has a high hardness, excellent wind and cold resistance, can withstand the 12th hurricane. 
The size of the outdoor LED display cabinet can be customized according to the module size to match customer's  different requests, such as 960mmx960mm, 1280mmx960mm,1600mmx960mm,1200mmx800mm, 640mmx960mm etc.
Pixel in 3.33mm / 4mm / 5mm / 6.67mm/ 8mm / 10mm in customized perimeter led cabinet will allows you to have more customized request realized easier, such as cables inside cabinet routed, light sensor built in. 
The disadvantage of them are the weight from the Steel LED Perimeter Cabinet is about 60kg/m2.
But Wheel base stadium led display cabinet can be optional, which can be more convenience after the match event finished to collect the led display.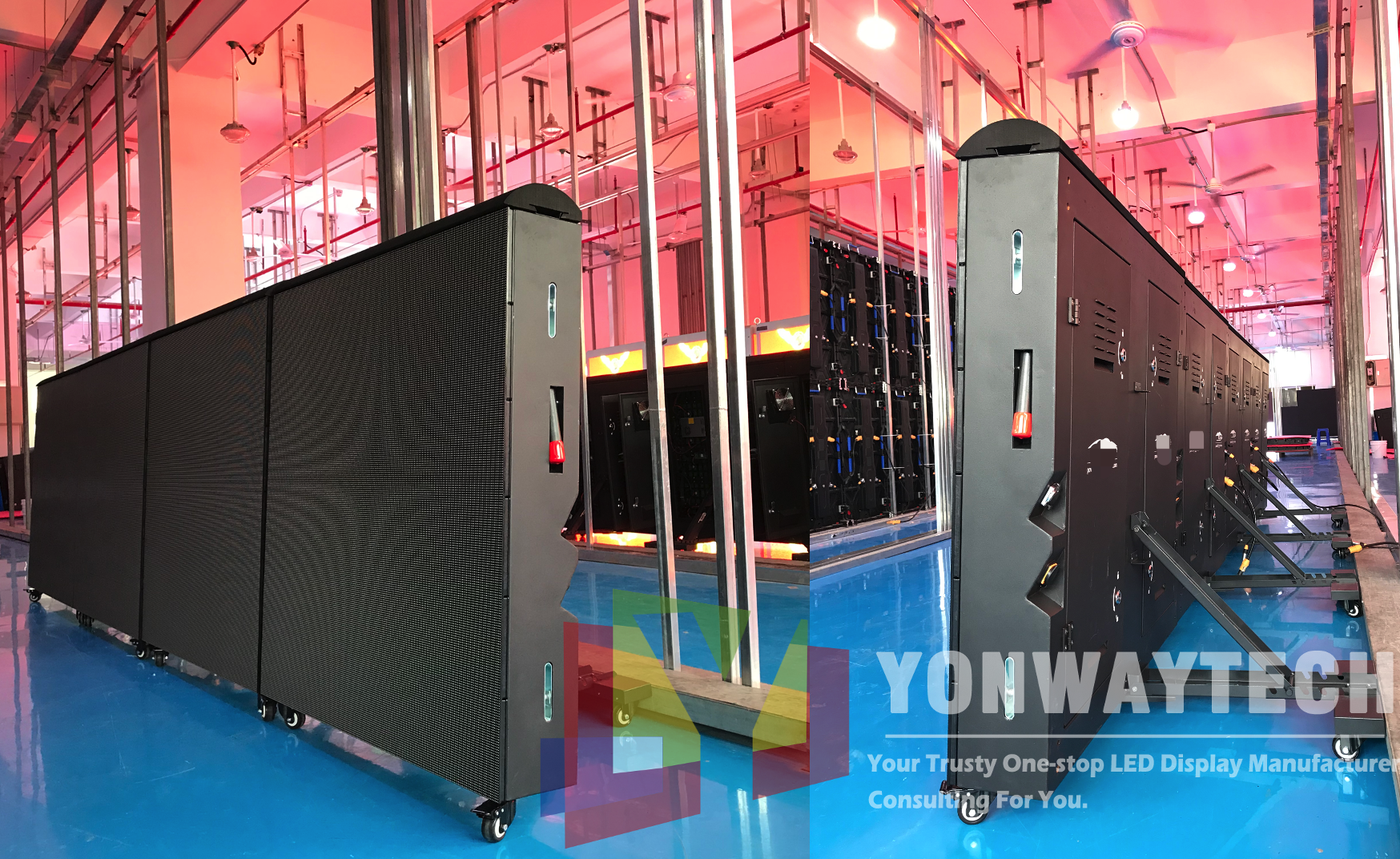 Cabinet option B– Magnesium alloy light weight led cabinet:
Die Casting Aluminum light Weight Magnesium Alloy For Fixed And Rental Led Screen Installation.
Ultra light weight and slim cabinet, magnesium alloy sport led display cabinet 960mm×960mm×100mm with only 26kg /cabinet.  
Sides fast locks and locating pin more easy in operation.
High quality cotton on top of the cabinet to reduce impact to athletes during event.
Polymer soft led module mask providing better protection from collision injuries.
It can be widely used for indoor and outdoor application for fixed scoreboard or rental stadium perimeter led display use.
High standard 320mm×160mm LED module configured in 960mm×960mm×100mm die casting aluminum magnesium alloy cabinet available pixel pitch in p2.5 / p3 / p3.3 / p4 / p5 / p6 / p6.67 / p8 / p10…… for indoor or outdoor use.
Excellent independent waterproof module and the waterproof enclosure with excellent sealing performance to protect cabinet, which is a perfect dustproof, waterproof and corrosion resistant, and the protection grade is up to IP65 in outdoor stadium led display.
All-weather for outdoor environment, can work smoothly in any weather condition,durability, reliability, Anti-ultraviolet and steady.
The installation angle of the stadium led cabinet can be adjusted according to the actual site conditions, and the angle can be flexibly changed.
It supports 60 ° / 65 ° / 70 °/ 75 °/ 80 °/ 85 °/ 90 ° multi-angle adjustment.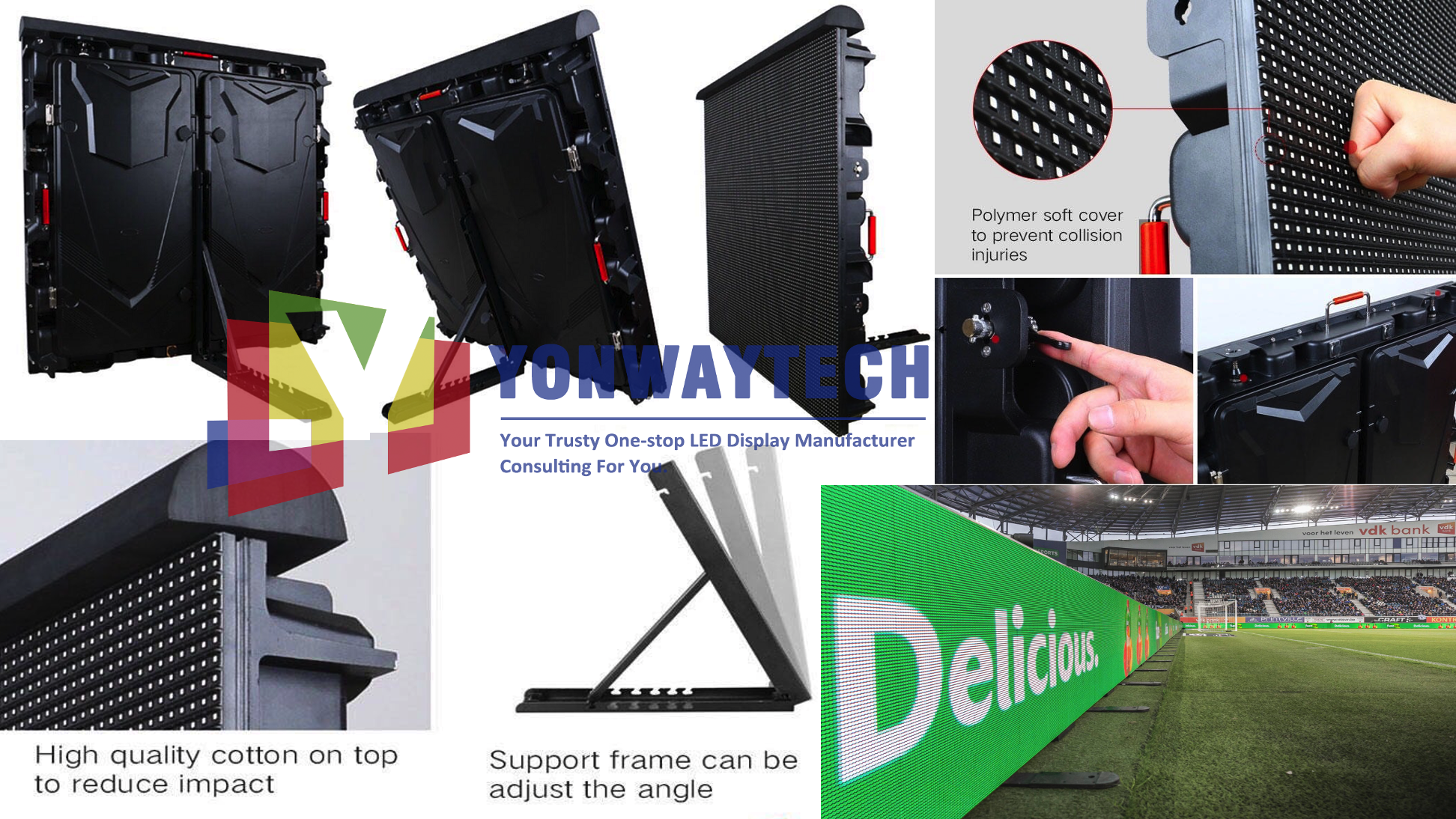 High-strength,tensile test to reach 300kg,more strength than aluminum
Viewing angle is up to 140°vertical and 120°horizontal,providing a wide viewing angle,giviing you the largest screen viewing area, more eye balls catching.
Seamless connection easier operation, fast heat dissipation ensure good performance.
With the removing of the pillowcase and standing structure in the perimeter led display, you can make the led display cabinet for outdoor led billboards.
If you install the screen with hanging bars, you can also use the led cabinet as a stage led video wall backdrop with hanging installations.
This makes it available for multiple installations and applications from Yonwaytech stadium led display.
You may refer to it as a "Transformer" led display from YONWAYTECH Sports LED Display.
Yonwaytech Stadium Perimeter LED Display / Sport LED Scoreboard In Australia.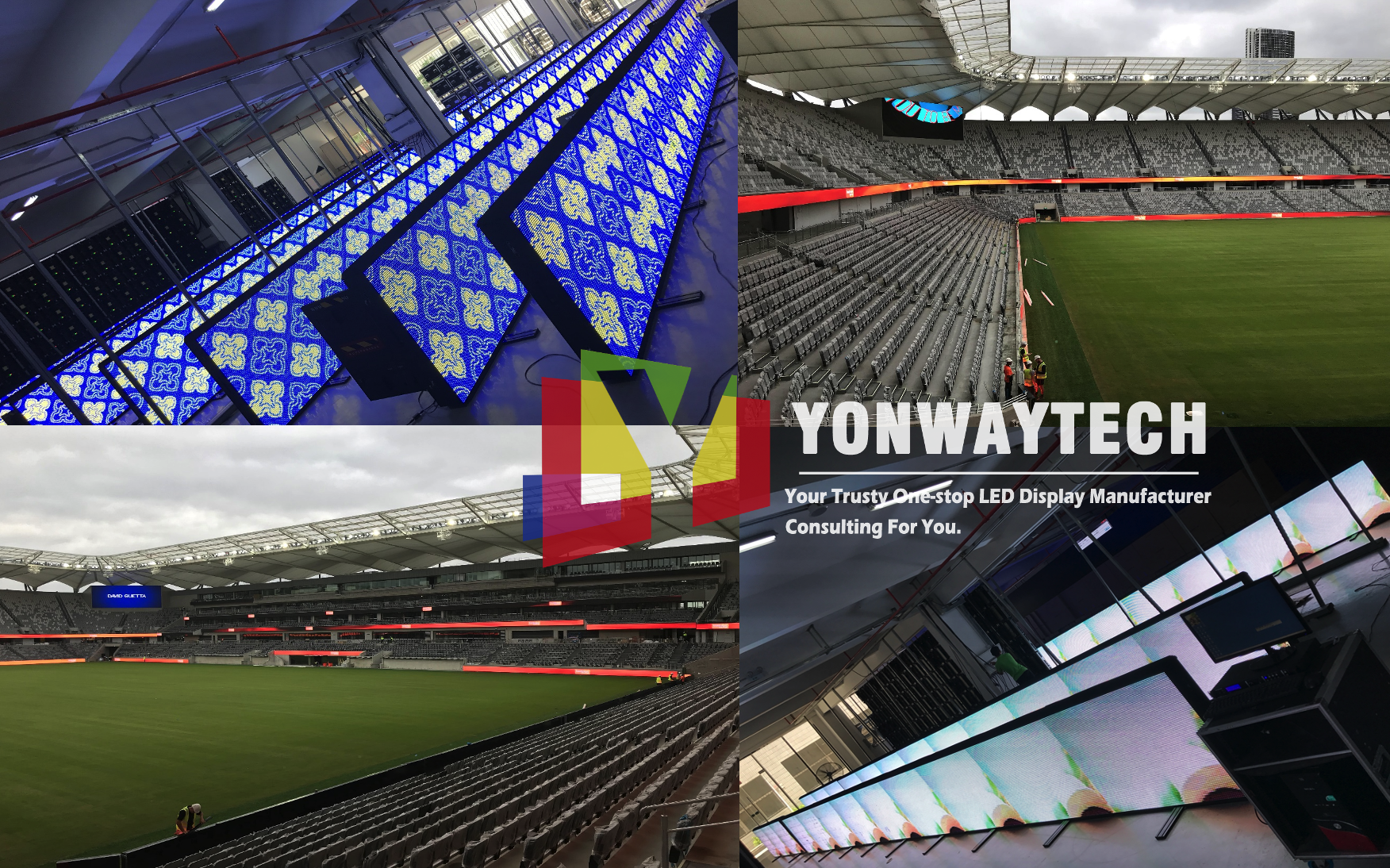 Technical Parameter:
Y-Stadium LED Display Indoor Series–960×960–V01
Pixel Pitch

2.5mm

3.076mm

4mm

5mm

10mm

LED

SMD 3 in1

Module size

320mm x160mm

Module resolution

128×64(dots)

104×52(dots)

80×40(dots)

64×32(dots)

32×16(dots)

Density

160000 pixels/sqm

105688 pixels/sqm

62500 pixels/sqm

40000 pixels/sqm

10000 pixels/sqm

LED Cabinet Size

960x960x87(mm)

Cabinet Weight

<25kg/pc

Material

Die Casting Magnesium Alloy

Brightness

800-1000 cd/m2 (Nits)

Avg power consumption

≦450w

≦380w

≦350w

≦320w

≦280w

Max power consumption

≦980w

≦900w

≦880w

≦850w

≦750w

Best Viewing Distance

2.5m to 25m

3m to 30m

4m to 40m

5m to 50m

10m to 100m

Grey Level

≧ 14 bits

Viewing Angle

Horizontal:≥140˚ / Vertical:≧120˚

Fresh frequency

≥1920Hz / ≧3840Hz Optional

Humidity-operating

10% ~ 95%

Operation Power

AC100-240V 50-60Hz

Screen life

≥100000 hours

Controlling mode

Synch or Async

Certificates

CE,RoHs,FCC,UL

Warranty

3 Years – 5 Years Optional

Protective grade

IP43 Dust proof
Y-Stadium LED Display Outdoor Series–960×960–V01 
Pixel Pitch

4mm

5mm

6.67mm

8mm

10mm

LED

SMD 3 in1

Module size

320mm x160mm

Module resolution

80×40(dots)

64×32(dots)

48×24(dots)

40×20(dots)

32×16(dots)

Density

62500 pixels/sqm

40000 pixels/sqm

22478 pixels/sqm

15625 pixels/sqm

10000 pixels/sqm

LED Cabinet Size

960x960x87(mm)

Cabinet Weight

<29kg/pc

Material

Die Casting Magnesium Alloy

Brightness

6000-6500 cd/m2 (Nits)

Avg power consumption

≦480w

≦450w

≦350w

≦320w

≦280w

Max power consumption

≦980w

≦950w

≦880w

≦850w

≦750w

Best Viewing Distance

4m to 35m

5m to 45m

6m to 55m

8m to 76m

10m to 98m

Grey Level

≧ 14 bits

Viewing Angle

Horizontal:≥140˚ / Vertical:≧120˚

Fresh frequency

≥1920Hz / ≧3840Hz Optional

Humidity-operating

10% ~ 95%

Operation Power

AC100-240V 50-60Hz

Screen life

≥100000 hours

Controlling mode

Synch or Async

Certificates

CE,RoHs,FCC,UL

Warranty

3 Years – 5 Years Optional

Protective grade

IP65 (Front) / IP54 (Rear)
---
---