It has the characteristics of waterproof, dust-proof, moisture-proof, anti-bumping, etc. In public places such as supermarkets and convenience stores with large traffic, it is not only afraid of touch, but also avoids damage caused by bumps.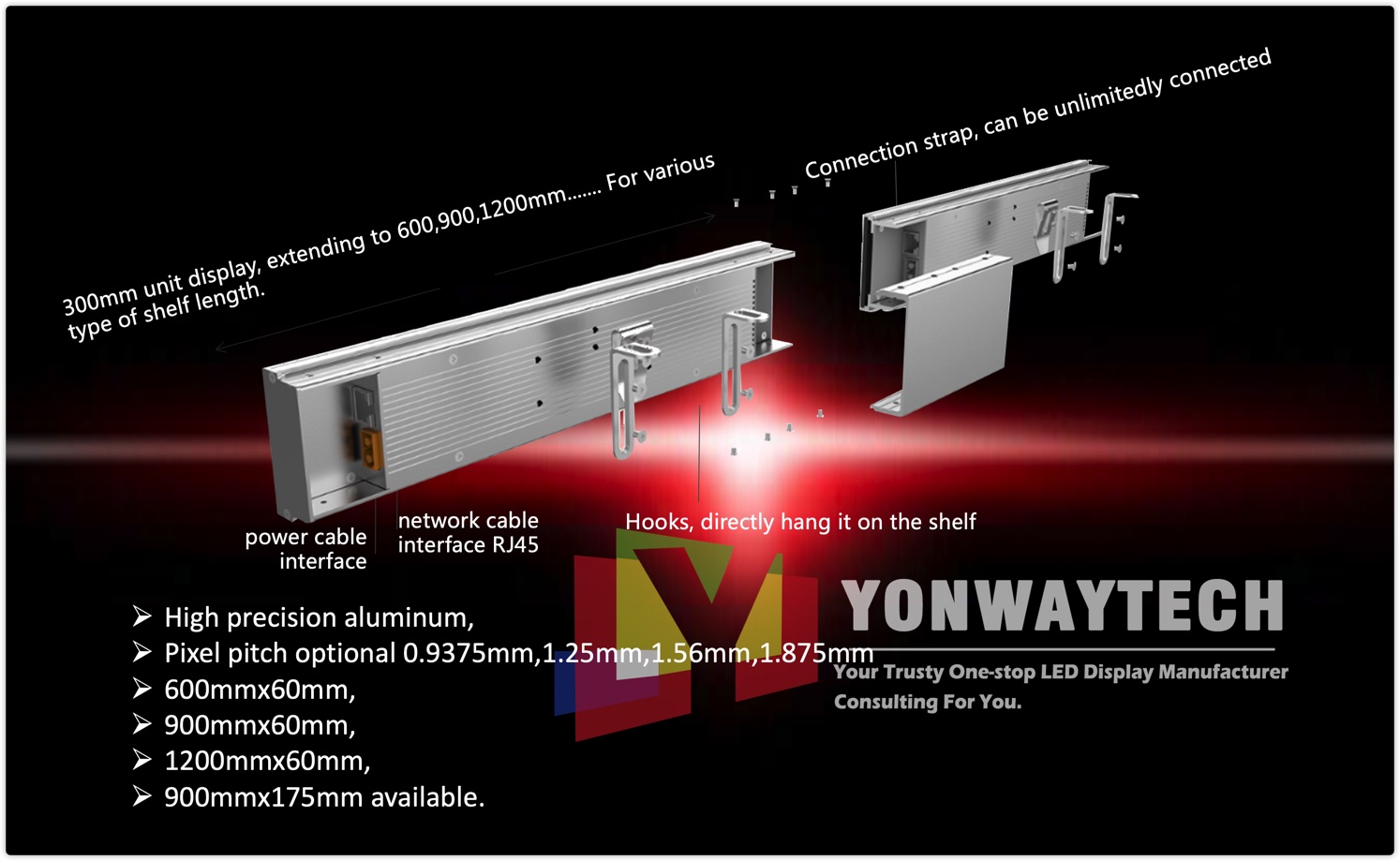 Retail shelf smart led banner from Yonwaytech brings lots for a more attractive advertising and more satisfying shopping experience as well.
Product Features:
High quality, Ultra-high resolution, 10000:1 ultra-high contrast ratio, perfectly display screen.

Wide viewing angle, super wide gamut,enjoy a 179.99 degree immersive viewing experience, close to 120% color gamut display, saturated and living color performance.

Matt surface for light absorption, and adaptable for various high-brightness occasions. brilliant visual brightness

COB type of screen, which visual brightness is brighter than all traditional screens in the market.

Waterproof, Shockproof, and Dustproof makes more stable while applied in easy to be touched and high humidity environment. 

Yonwaytech's innovative led shelf banner configured with Wifi / 4G or USB control,G-cloud(cluster management) available for remote and multipoint control.

Full aluminum alloy cabinet, light weight、durable and good heat dissipation.

Various of installation bracket, installation diversification.

Flexible assembly by a variety of customized banner sizes.
LED Price Tags and Screens can widely used in any kinds of retail applications like grocery store, convenience store, or hotel lobby,Supermarket,Self-service store,Convenience store,Airport,Metro station,Stadium,Advertising display,Museum,Exhibition,Chain brand store,Luxury brand store,T stage,Casino, Hotel,Showroom,High-end conference room,Theatre,cinema,Tourist attractions
Technical Parameter:
Pixel Pitch(mm)

P1.875

P1.5625

P1.25

P0.9375

LED Panel

Pixel Configuration

1R1G1B

  LED Drive Power

30S

36S

45S

60S

Panel Resolution

30*80 (H*L)

36*96 (H*L)

45*120 (H*L)

60*160(H*L)

 Panel Size(mm)

56.25*150

 Panel Current(A)

1A – 1.1A

Smartshelf
LED Banner

600mm

 Resolution

30*320 (H*L)

36*384 (H*L)

45*480 (H*L)

60*640(H*L)

 Shelf Display Size(mm)

L:600mm;H:60mm

 Power Supply Mode

5VDC / 24VDC

 Electric Power

24W

Luminance(cd/㎡)

≥300cd/㎡

900mm

 Resolution

30*480 (H*L)

36*576 (H*L)

45*720 (H*L)

60*960(H*L)

Shelf Display Size(mm)

L:900mm;H:60mm

 Power Supply Mode

5VDC / 4VDC

 Electric Power

36W

1200mm

 Resolution

30*640 (H*L)

36*768 (H*L)

45*960 (H*L)

60*1280(H*L)

 Shelf Display Size(mm)

L:1200mm;H:60mm

 Power Supply Mode

5VDC / 24VDC

 Electric Power

48W

 Luminance(cd/㎡)

≥300cd/㎡

Shelf LED Display

Working Temperature(ºC)

-10ºC—+50ºC

Working Humidity(RH)

20%—90%

Contrast Ratio

10000:1

Horizontal Viewing Angle(Deg)

160°

Vertical Viewing Angle(Deg)

160°

Life Span(H)

100,000 hours (50% brightness)

Grey Scale(bit)

22 bit

Refresh Frequency(Hz)

3840 Hz
---
---