Outdoor pixel pitch P2.5, P2.94, P3, P3.33, P3.84, P4, P5 available in customized smart city led pole sign screen.
It can send video or pictures by intelligent terminal APP to realize intelligent interactive with Smart Advertising player
Best performance led like NATIONSTAR or KIGHTLIGHT integrated with ICN2153 or MBI5124 drive ic to ensure a vivid led screen from YONWAYTECH.

YONWAYECH Smart lighting Pole LED display is a classical integrated LED display product with the feature of high brightness, waterproof, dustproof, fast installation, convenient maintenance, cluster management.
Although the smart pole sign led size is much smaller than big LED screen, Smart Pole LED display has been more and more widely used for its unique advantages and characteristics in information publish, advertising display, information collection, road condition broadcast,traffic guidance,smart lighting city and more. 
Super Light Weight Creative Installation.
Ultra thin customized led cabinet.Flexible multiple installation methods.
YONWAYTECH smart pole LED Screen supports multi installation with side hanging installation, middle hanging installation, roof hanging installation, mounting installation available.
Each installation solution is very easy and fast,2-3 persons can finish the installation in a few minutes easily, save time and cost greatly.

Intelligent visual feast in customized LED pole sign screen.
High definition and high brightness, Lifelike images, gorgeous color, high refresh rate,high color uniformity to offer viewers clear image brings fresh and clear visual experience.
Customized one or two sides display,grand appearance,beautiful and special shape,achieving the individual design.
Super thin 8mm one face display and 14mm two faces video led pole screen optional in customized service provided by YONWAYTECH led display.
YONWATECH pole sign LED Screen adopts three high quality MEANWELL LED display power supply and totally noiseless high efficiency cooling fan.the sealing property is better,the cabinet does not have any noise at all when working,the pole lighting sign  LED display can achieve an environmental protection standard of noiseless works.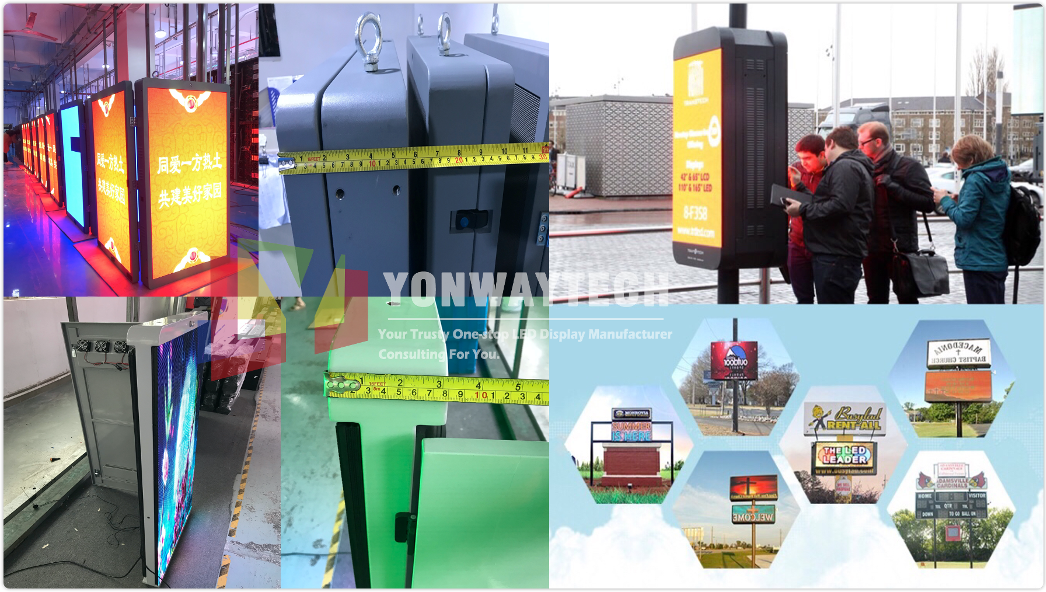 Multi creative control way LED pole sign display.
Integrated WIFI multimedia intelligent lighting pole sign terminal,can be connected through intelligent terminal free WIFI,and push the advertising information to the intelligent terminal, achieving the synchronous and asynchronous control,achieving Large-scale cluster control and management, transmitting without distance limit,publish the programs to all pole LED displays in your office of you city at one time without updating one by one,also you can locate each pole LED display in the cloud cluster system to check the status of each pole led display easily.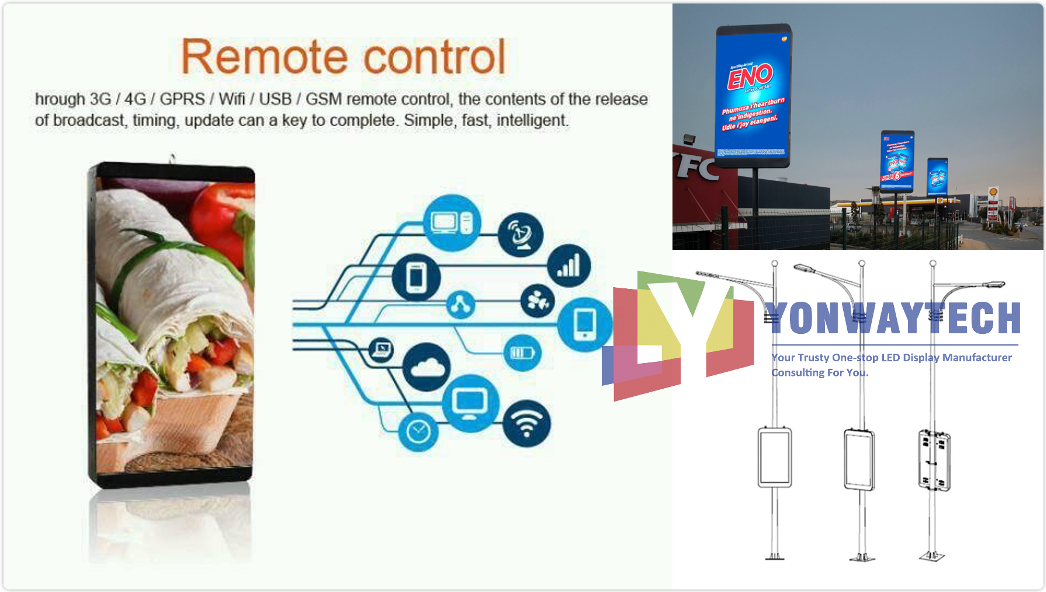 Excellent independent waterproof module and the waterproof enclosure with excellent sealing performance to protect cabinet, which is a perfect dustproof, waterproof and corrosion resistant, and the protection grade is up to IP65.
All-weather for outdoor environment, can work smoothly in any weather condition.
High protection grade of IP65 guarantees, durability, reliability, Anti-ultraviolet and steady.
Viewing angle is up to 160°in horizontal and 120°vertical, provide a wide viewing experience in your outdoor digital billboard.
Ultra-wide viewing angle give you the largest screen viewing area, more eye balls catching.
Hight brightness smart led pole sign display with auto-adjusting system.
Built-in automatic brightness adjustment system,the screen can automatically reduce the brightness at night or in a cloudy day to adapt to the surrounding environment and while to save cost in energy.
The highest brightness can up to 7,000nits.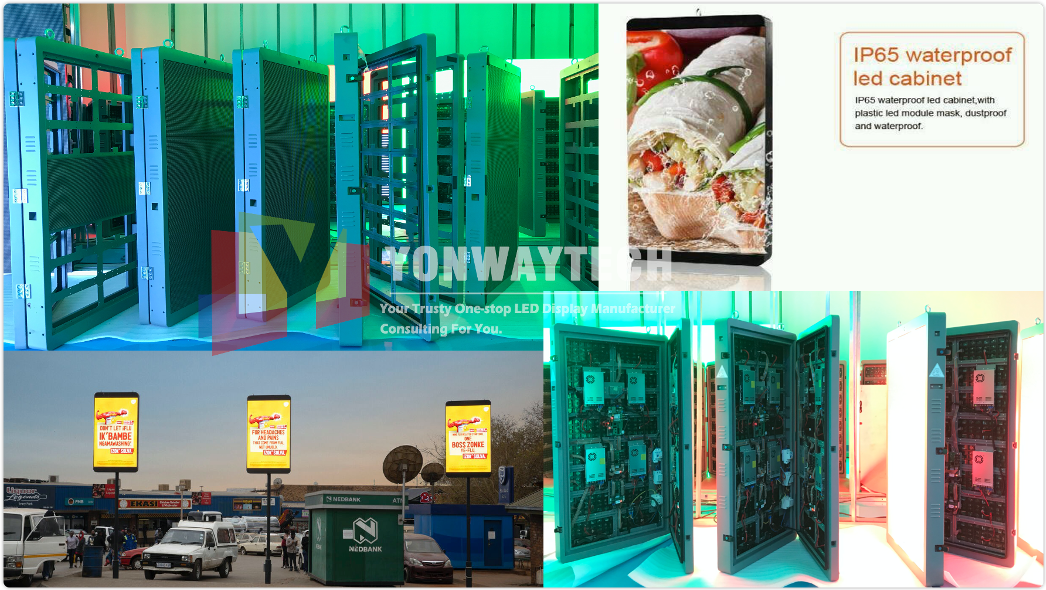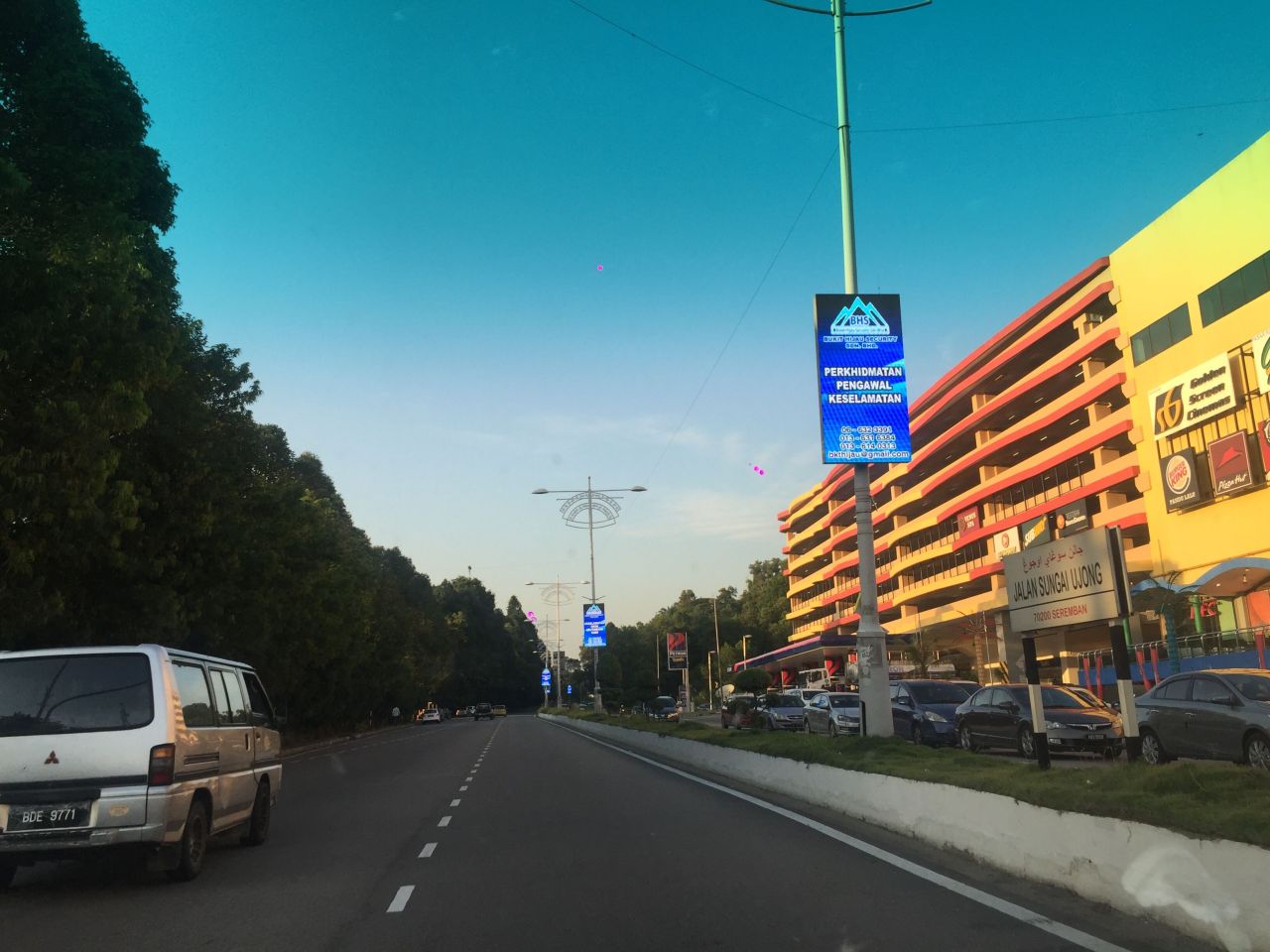 Technical Parameter:
Y-Outdoor Pole Sign-600×1000-V01
Pixel Pitch

2.5mm

2.94mm

3mm

3.33mm

3.84mm

4mm

5mm

LED

SMD 3in1

Module size(mm)

160×160

200×200

192×192

200×200

200×200

256×128

320×160

Module resolution(dots)

64×64

68×68

64×64

60×60

52×52

64×32

64×32

Density(pixels/sqm)

160000

115600

111111

90000

67600

62500

40000

LED Cabinet Size(mm)

Customized Black Lacquered Iron Cabinet  /  Die Casting Magnesium Alloy(800×1200)

Cabinet Weight

≦50kg/sqm(Iron) / ≦30kg/sqm(Magnesium Alloy)

Material

Customized Black Lacquered Iron Cabinet  / Die Casting Magnesium Alloy

Brightness

5500-6500 cd/m2 (Nits)

Avg power consumption

≦1100w

≦1000w

≦900w

≦900w

≦900w

≦800w

≦700w

Max power consumption

≦400w

≦400w

≦400w

≦400w

≦400w

≦400w

≦400w

Best Viewing Distance

3m to 200m

Grey Level

14 bits~~16 bits

Fresh frequency

≥1920Hz

Humidity-operating

10% ~ 95%

Screen life

≥100000 hours

Controlling mode

Synch or Async

Transmission Distance(m)

3G / 4G, LAN, WIFI Cluster Remote Wireless Management

Input Voltage(AC)

110V / 240V 50/60 HZ

Protective grade

IP65 Front / IP54 Rear
---
Next:
Outdoor Energy Saving LED Display, P4, P5.33, P6.67, P8, P10 Front & Rear Dual Service LED Screen Billboard.
---