960×960 Series Magnesium Alloy LED Display is YONWAYTECH latest multi-function LED display.
Ultra slim led cabinet 960mm×960mm×100mm standard size with excellent seamless and flatness video performance,can be used creatively as indoor fixed installation LED Display, outdoor fixed installation LED display, rental LED display, perimeter sports LED Display, advertising LED display and more.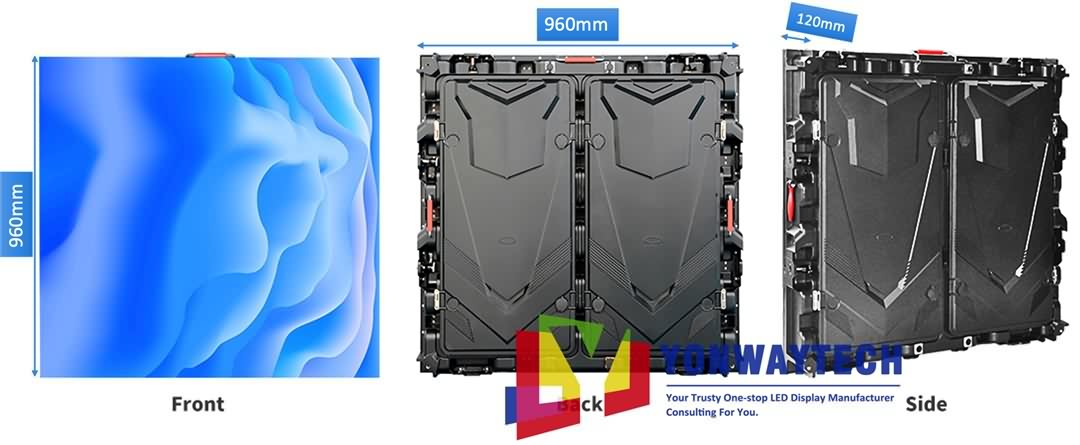 Fine standard cabinet with no obvious gaps between the cabinets.
Non-deformability function keeps the screen in a good shape and smoothly.
Aerofoil fan cooling immediately,4 fans configured in each led cabinet, ventilation volume is 5.6 cubic meter per minute, air circulation 20 times very minute inside the led cabinet. High efficiency cooling.

Super light weight led cabinet,960mm×960mm×100mm with only 26kg per cabinet,not only good for transportation,but also cost saving in installation and disassembly.
Configured with YONWAYTECH's unique side locks and surround locating pins, the position of each cabinet can be precisely adjusted from Six directions, left or right, up or down, front or back, so every cabinet can be positioned to the exact place with accuracy to millimeter, presenting a super seamless and flat cabinet alignment.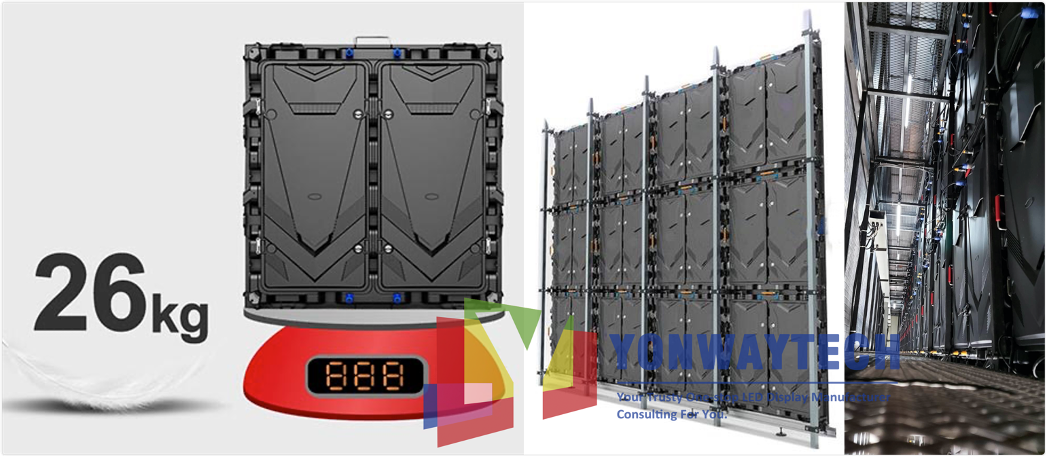 Humanization handle bar design makes you more convenient to move the led cabinet,especially in your event stage rental use.
High standard 320mm×160mm LED module configured in 960mm×960mm×100mm die casting aluminum magnesium alloy cabinet available pixel pitch in p2.5mm / p3mm / p3.3mm / p4mm / p5mm / p6mm / p6.67mm / p8mm / p10mm…… for indoor or outdoor use.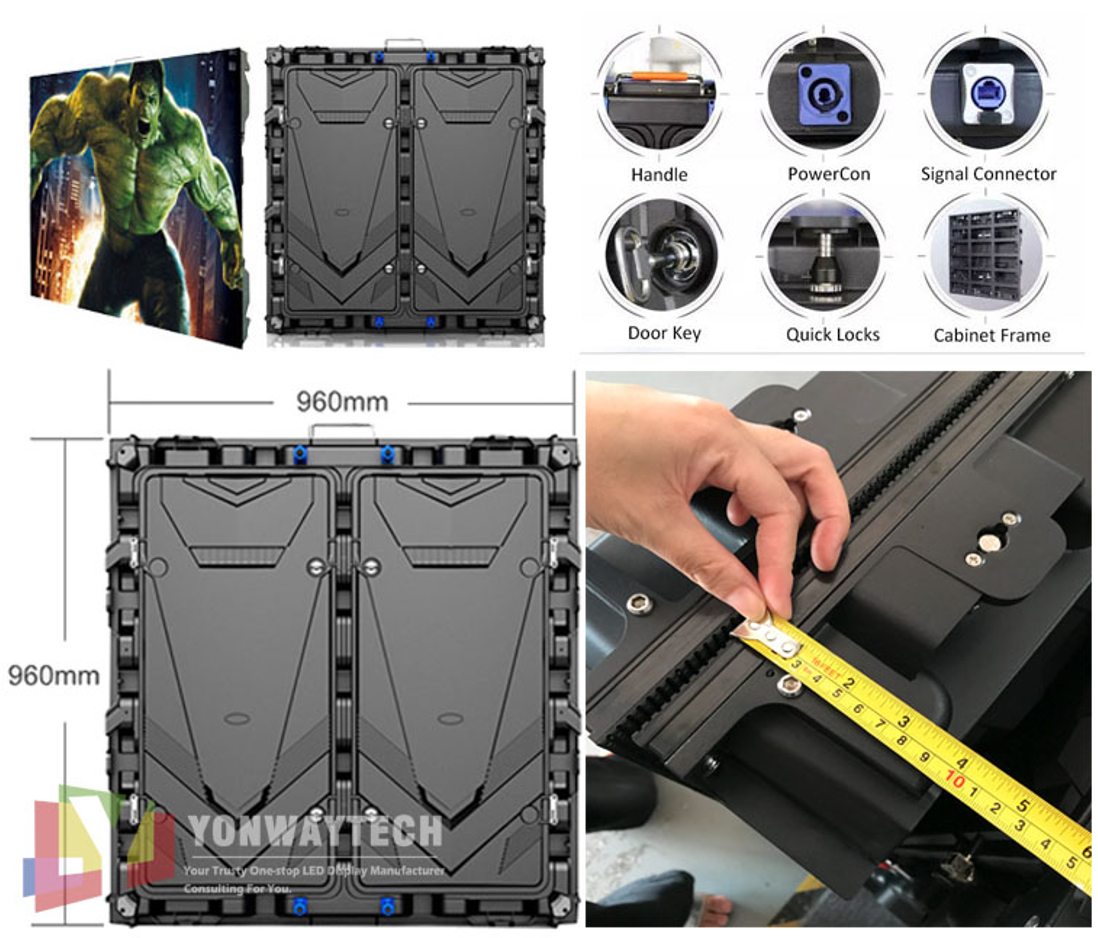 Excellent independent waterproof module and the waterproof enclosure with excellent sealing performance to protect cabinet, which is a perfect dustproof, waterproof and corrosion resistant, and the protection grade is up to IP65.
All-weather for outdoor environment, can work smoothly in any weather condition.
High protection grade of IP65 guarantees, durability, reliability, Anti-ultraviolet and steady.

Viewing angle is up to 160°in horizontal and 120°vertical, provide a wide viewing experience in your outdoor digital billboard.
Ultra-wide viewing angle give you the largest screen viewing area, more eye balls catching.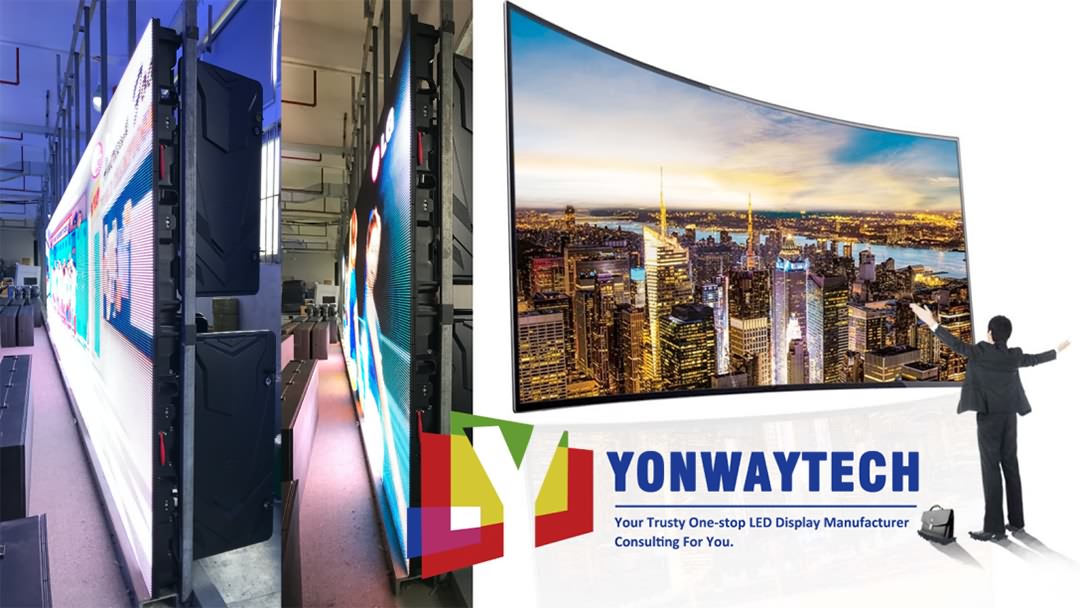 Technical Parameter:
Y-Outdoor Fixed-960×960×100-V01 
Pixel Pitch
3.33mm
4mm
5mm
6.67mm
8mm
10mm
LED

SMD 3in1

Module size

320mm*160mm

Module resolution
96×48dots
80×40dots
64×32dots
48×24dots
40×20dots
32×16dots
Density
90000 pixels/sqm
62500 pixels/sqm
40000 pixels/sqm
22478 pixels/sqm
15625 pixels/sqm
10000 pixels/sqm
LED Cabinet Size

960×960×87(mm)

Cabinet Weight

26kg/pc

Material

Die Casting Magnesium Alloy

Brightness

5500-6500 cd/m2 (Nits)

Avg power consumption
530w
480w
450w
350w
320w
280w
Max power consumption
980w
980w
950w
880w
850w
750w
Best Viewing Distance
3m to 30m
4m to 40m
5m to 50m
6m to 60m
8m to 80m
10m to 100m
Grey Level

14 bits

Fresh frequency

≥1920Hz

Humidity-operating

10% ~ 95%

Screen life

≥100000 hours

Controlling mode

Synch or Async

Transmission Distance(m)

CAT-5E≦130m,Multi-mode Optical Fiber≦500m,Single Mode Optical Fiber≦10km

Input Voltage(AC)

110V / 240V 50/60 HZ

Protective grade

IP65 Front / IP54 Rear
Technical Parameter:
Y-Indoor Fixed-960×960×100-V01
Pixel Pitch
2.5mm
3.076mm
4mm
5mm
10mm
LED

SMD 3in1

Module size

320mm*160mm

Module resolution
128*64dots
104×52dots
80×40dots
64×32dots
32×16dots
Density
160000 pixels/sqm
105625 pixels/sqm
62500 pixels/sqm
40000 pixels/sqm
10000 pixels/sqm
LED Cabinet Size

960×960×87(mm)

Cabinet Weight

24kg/pc

Material

Die Casting Magnesium Alloy

Brightness

800-1000 cd/m2 (Nits)

Avg power consumption
450w
380w
350w
320w
280w
Max power consumption
980w
900w
880w
850w
750w
Best Viewing Distance
2.5m to 25m
3m to 30m
4m to 40m
5m to 50m
10m to 100m
Grey Level

14 bits

Fresh frequency

≥1920Hz

Humidity-operating

10% ~ 95%

Screen life

≥100000 hours

Controlling mode

Synch or Async

Transmission Distance(m)

CAT-5E≦130m,Multi-mode Optical Fiber≦500m,Single Mode Optical Fiber≦10km

Input Voltage(AC)

110V / 240V 50/60 HZ

Protective grade

IP43 Front / IP43 Rear