250mmX250mm Outdoor Front Service P3.125 P3.91mm P4.81 P5.9 LED module display
P3.91 outdoor front maintenance led module screen,Front & Rear Dual Service LED Panel Size is 250mmx250mm With 64dot x 64dots.
250mmX250mm P3.91mm Standard Size LED Module panel With High Brightness and Best Color Uniformity.

P3.91mm led module size 250mmx250mm,the best pixel pitch HD Outdoor Front Service LED Display Module.
Outdoor P3.91mm IP65 LED screen Panel High Brightness and High Resolution 64dotsx64dots.
SMD Outdoor P3.91 LED Module Including real copper Data and Power Cables, Waterproof Rubber Ring.
500mmx500mm Die-cast Aluminum IP65 Cabinet Configured With Power & Signal Plugs Well For Fixed Advertising LED Signage Or Stage Rental.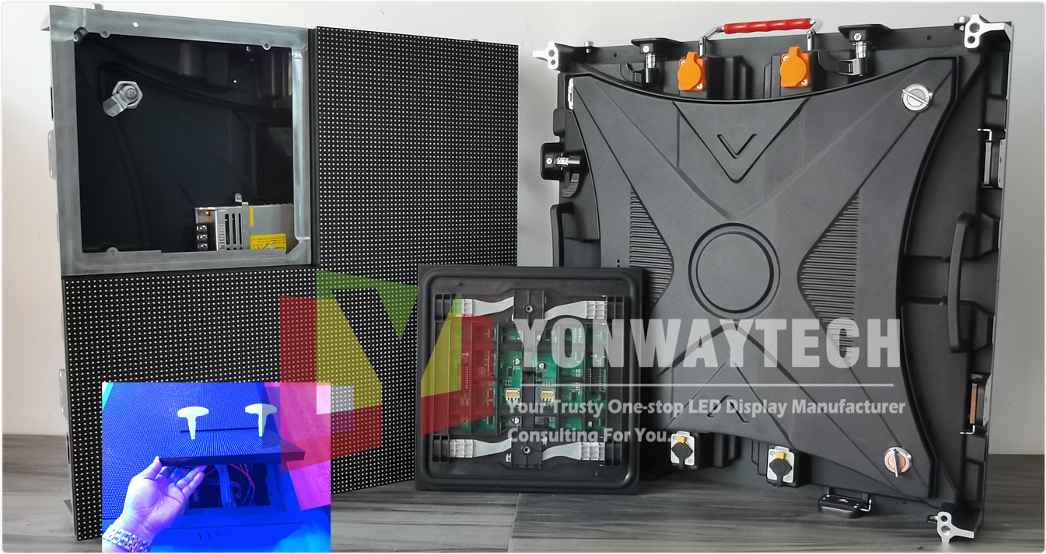 Nationstar or kinglight led chips with 3840hz refresh rate.
Universal fixed holes for 500mmX1000mm or 500mmX50mm die-cast aluminum alloy cabinet.
Light weight and IP65 front waterproof led cabinet easy operation.

Front & Rear Dual Service LED Panel Size is 250mmx250mm With 64dot x 64dots more creative maintain in outdoor advertising led screen.
Front Service Customized IP65 LED Cabinet.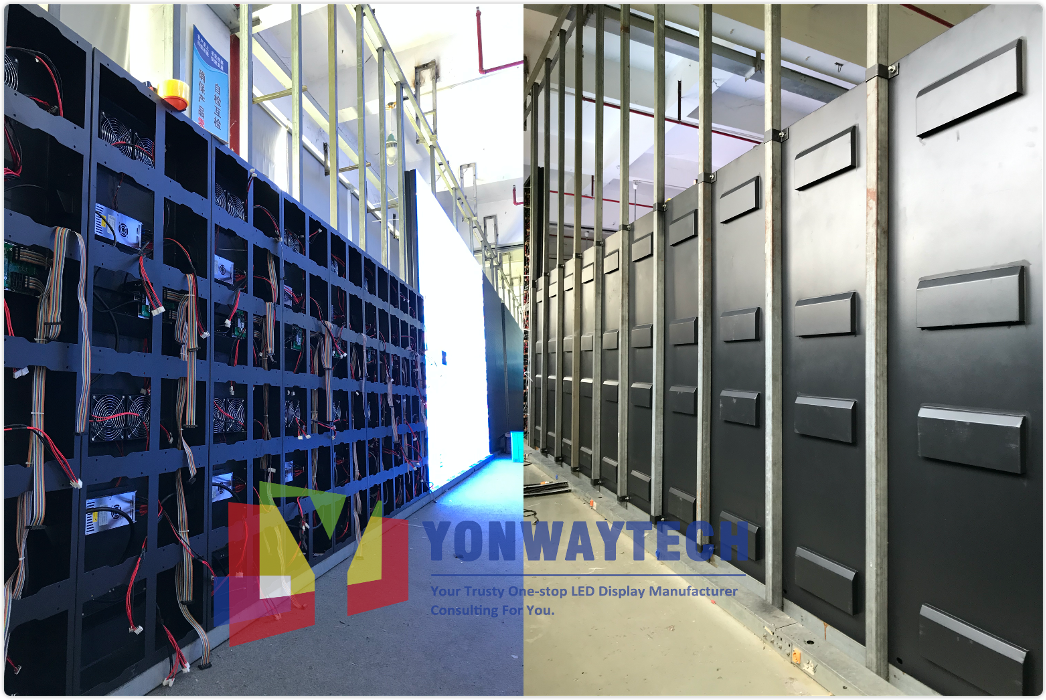 Front & Rear Dual Service Customized IP65 LED Cabinet.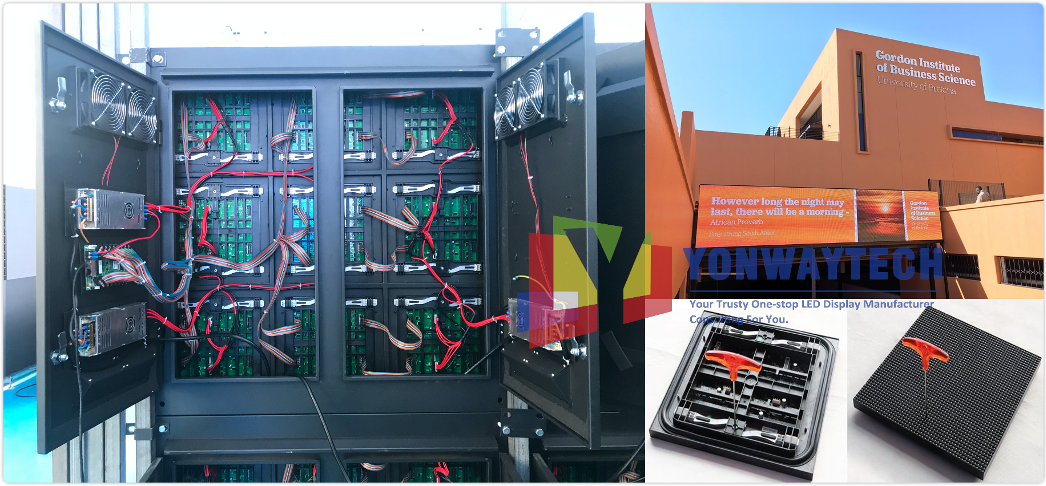 P3.91mm outdoor front service led module display technical parameters:
LED Chip Specification

LED Display Specification
| | |
| --- | --- |
| Item | Technical Parameter |
| Panel No. | Y-Of3.91-250*250-1/8-V01 |
| LED Type | Nationstar SMD 1921 (Kinglight Optional) |
| Pixel Pitch | 3.91mm |
| Modular mask | Pure black UV-anti mask with a high contrast screen |
| Pixel Configuration | SMD 3 In 1, 1R1G1B |
| Module Size | Horz.: 250mm× Vert.: 250mm× Thk.:18mm |
| Module Resolution | Horz.: 64dots×Vert.: 64dots |
| Panel Size | Horz.: 500mm× Vert.: 1000mm× Thk.:150mm |
| Panel Resolution | Horz.: 128dots× Vert.: 256dots Customized Optional |
| Density | 65536dots/m2 |
| Brightness | ≥5000nits/m2 |
| Scan Solution | Constant 1/8 |
| Drive IC | ICN2038S & 2160Hz PWM, 3840Hz Optional. |
| Contrast Ratio | 3000:1 |
| Power Consumption | ≤1008W/ m2 (MAX), ≤340W/ m2 (AVG) |
| Net Weight | 600G/Module, 45KG/ m2 Cabinet. |
| Gray Scale | 16Bit |
| Color | 281 Trillion |
| Refresh Rate(Hz) | 1920Hz—3840Hz |
| Viewing Angle | Horz.: 140, Vert.:120 |
| Color Temperature | 6500K |
| Frame Frequency | ≥60Hz |
| Failure Rate | ≤1/1,000,000 |
| MTBF | ≥10,000 Hours |
| Control Mode | ASYNC Via WIFI/4G,SYNC VIA PC By USB/Net/HDMI Optional |
| Best View Distance | ≥4m |
| Control Distance | CAT 5:≤120m;Multi Mode Fiber≤500m;Sigle Mode Fiber≤20km; |
| Working Temperature/Humidity (℃/RH) | -20~60  / 20%~85%RH (NO CONDENSATION OF MOISTURE) |
| Storage Temperature/Humidity (℃/RH) | -20~60  / 20%~85%RH (NO CONDENSATION OF MOISTURE) |
| Display Mode | 1024×768,2K,HD,4K,8K |
| Maintain Mode | Front & Rear dual service |
| Power Supply Requirement | AC90~264V,Frequency 47~63(Hz) |
| Applicable System | Linsn,Novastar,Colorlight,Xixun LED Conrol Card Etc. |
1.High Quality LEDs
We choose Nationstar LED for outdoor Front&Rear Service P3.91 Outdoor LED Display Module, so it feautres high reliability and high contrast, Super wide wiewing range with high brightness.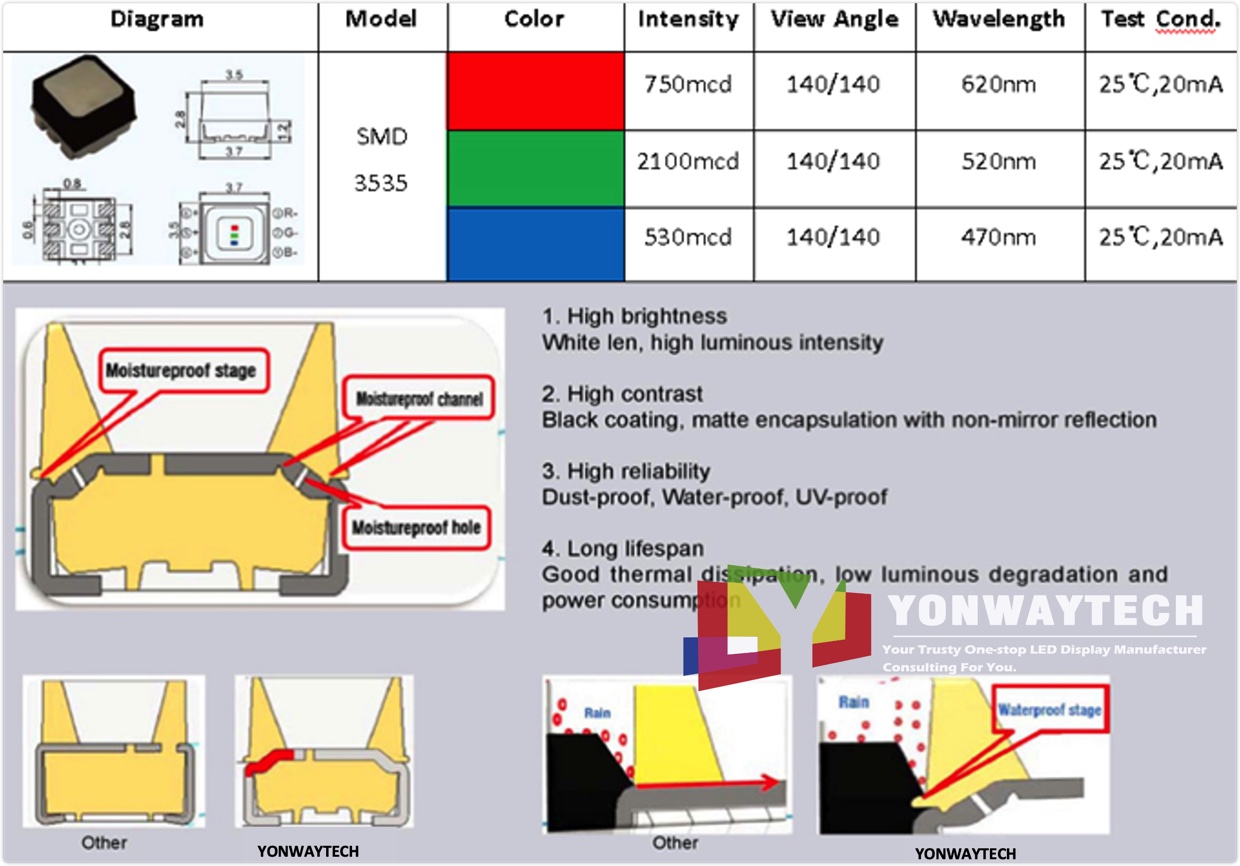 2: Best Quality Material, Modules and Chips
The material, modules and chips are selected with great care. We purchase the material from reputed vendors. we use the Best Driving IC,such as MBI5124,ICN2153,SUM16136 with high refresh rate,high grey level with latest technology.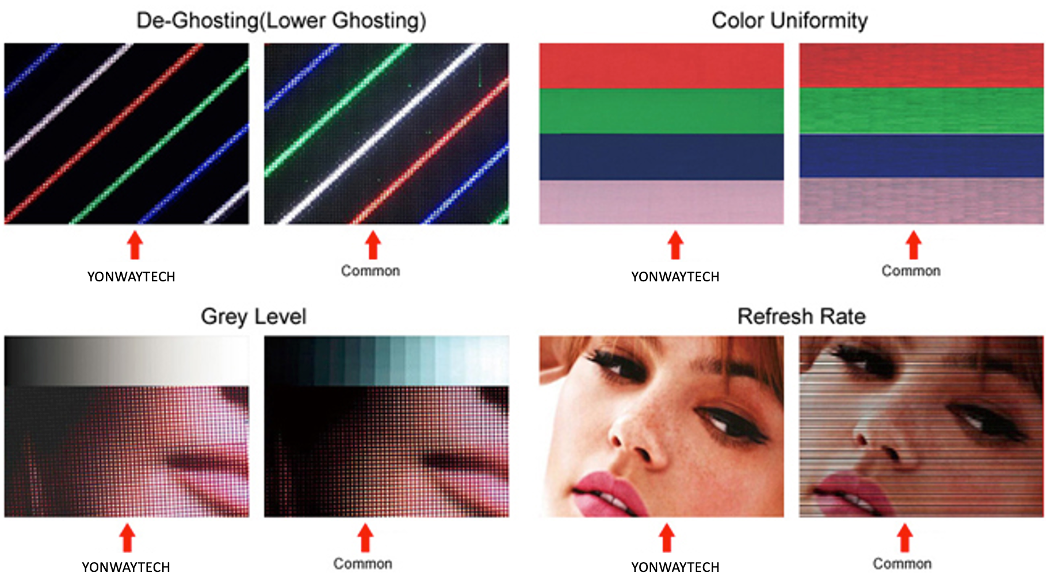 LED Module Display Aging & Testing Before Assembly Or Delivery.
LED Display Module aging and testing is refers to imitate the long time operation without working problems,it is the most important to ensure the reliability of the LED display before delivery or assembly.
LED display can be more stable after aging, and it can help the use of the efficiency. led screen aging test is a very important link in quality control.
YONWAYTECH cherish each trusty work from our client,our led module or led display with strictly aging test and OQC to next step work like led module panel delivery or led display cabinet shipping.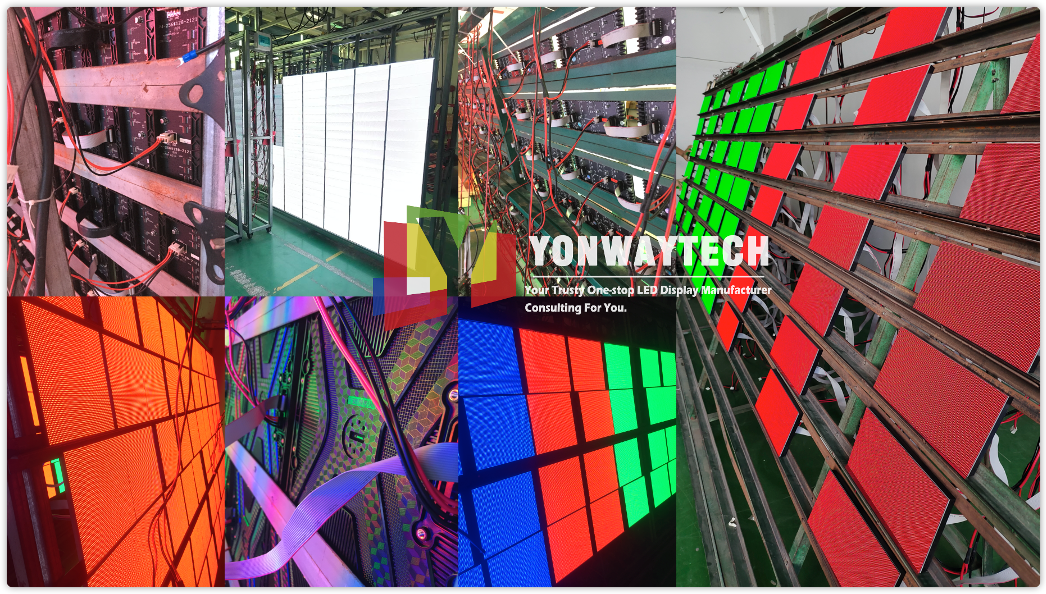 The LED aging test is based on the product's failure rate curve, which is the characteristics of the bathtub curve, and the countermeasures are adopted to improve the reliability of the product.
The indoor led module aging method includes constant current aging and constant pressure aging.
A constant current source is that the current is constant at any time,after using the frequency adjustable, current adjustable constant current source for such aging, in order to judging the quality of the outdoor led module in a short time and can pick out the dangerous LEDs make sure the led display module working well after installation.
The aging test of LED display is divided to white balance aging (2×24 hours) and video aging (24 hours).totally 72 hours before delivery.
Aging test process of led display screen,YONWAYTECH OQC need to confirm quality details as belows:
1; Check the led display module installed all correct.
2; Check whether there is a short circuit or not.
3; Check whether the module is flat and neat.
4; Check whether the appearance is intact or not.
5; Use the online led control system to light up.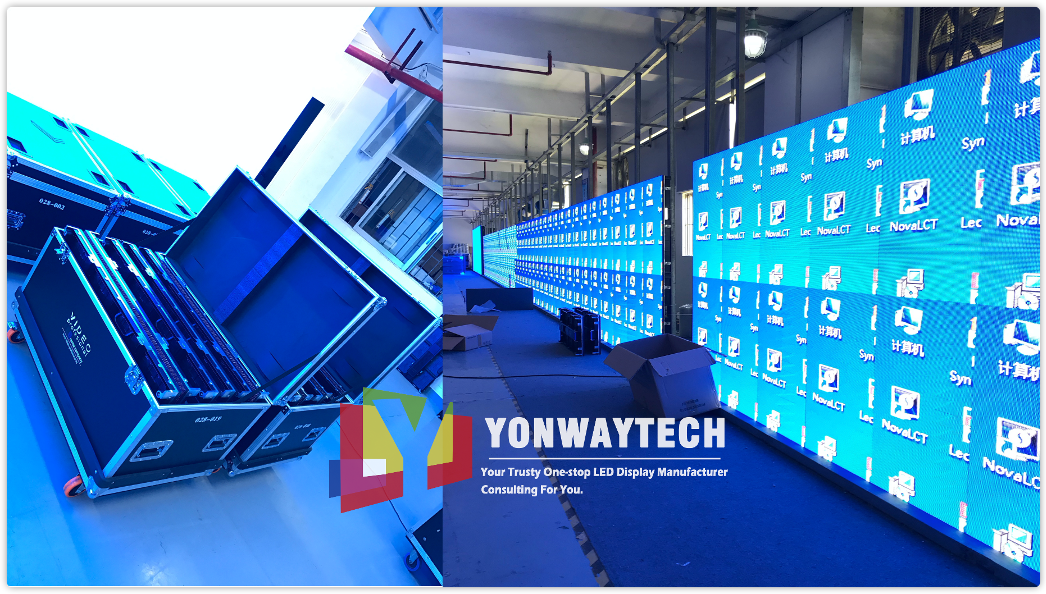 We ensure our led display module product 100% as best as possible after aging before delivery.
---
Previous:
Omnipotent P1.953,P2.604,P2.976,P3.91,P4.81 frontal rear dual service concert church event stage rental led display
---