Your Trustworthy One-stop Stage Event Rental LED Screen Factory,Consulting For you.
Omnipotent 500mmx500mmx80mm concert church stage rental led display available in P1.953,P2.604,P2.976,P3.91,P4.81 for fixed or temporary use.

Ultra light weight,more easier in operation.
Omnipotent series 500mmx500mm standard cube led rental screen in pixel p1.953,p2.5,p2.604,p2.976,p3.91, p4.81,p5.95,p6.25 for indoor or outdoor use.
Ultra-Light die-casting aluminum portable cabinet,ultra-thin thickness within 80mm.
A strong and reliable cabinet structure not only important during event show safe, but also good for your business ROI.
Light weight led panels make the LED display is good for transport and installation, saving time and a good amount of money on your labor cost.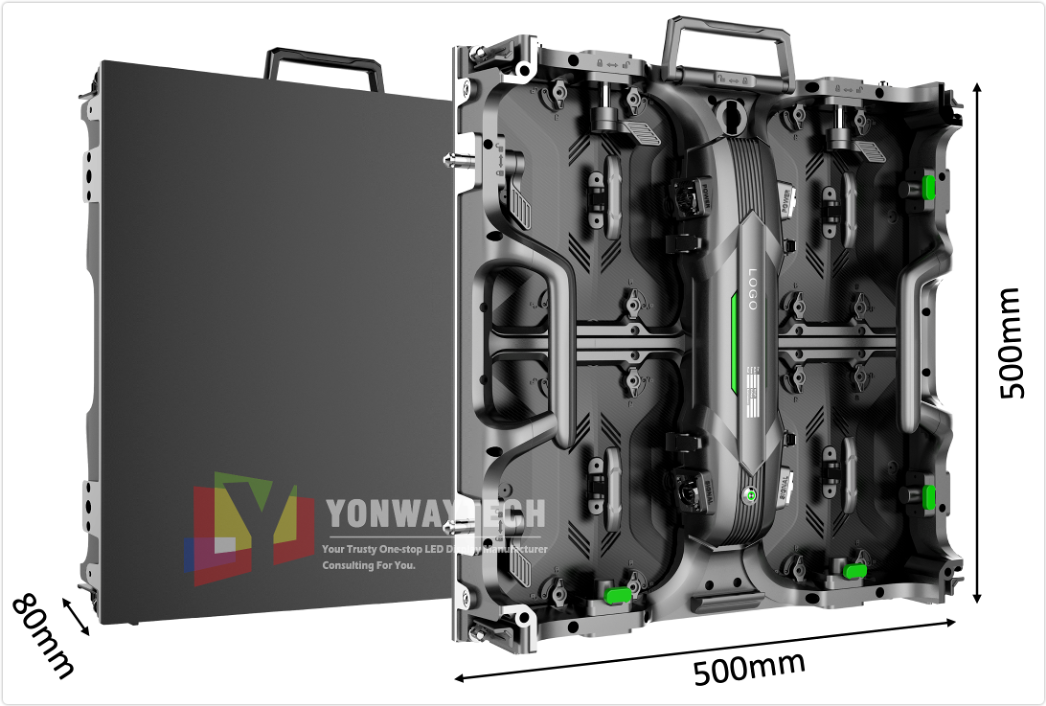 Humanization design led cabinet handle,quick assembly.
YONWAYTECH omnipotent series stage rental LED screen for indoor and outdoor use with dual frontal and rear maintenance available for LED Panels and Power Box,easier in installation of led panels.
Hidden test button, stack installation joggle,magnet adsorption module, module installation knob,power connector,signal connector, all led rental display details just to make it more easier and faster in assembly within 20 seconds.
Omnipotent series rental led screen perfect design with new technology and elegant appearance.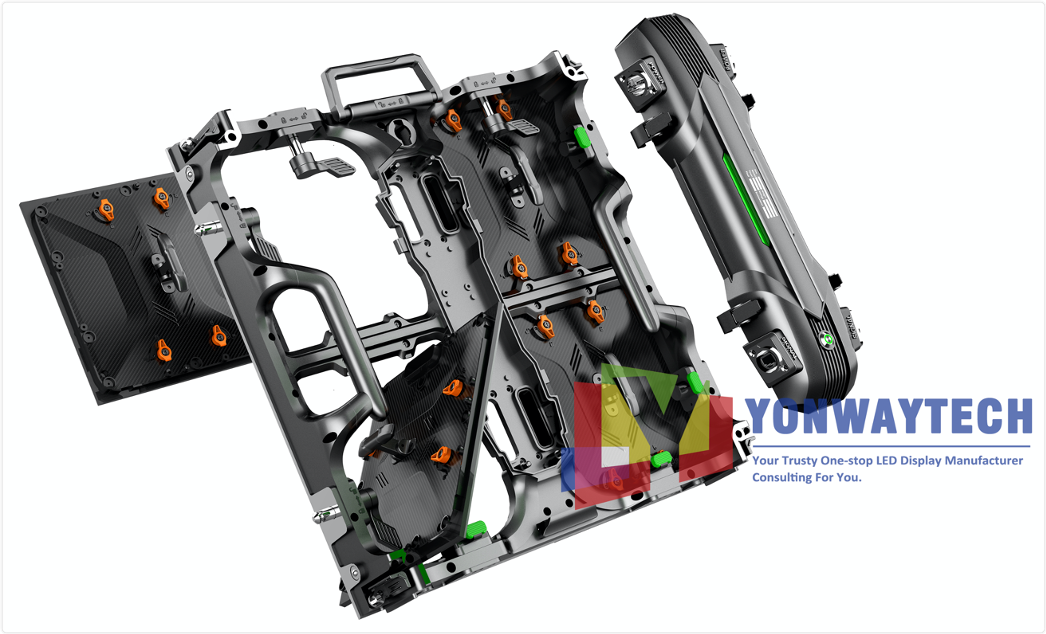 Corner protector for LED configured in panel.
Yonwaytech omnipotent series stage rental LED screen front service LED sign has four corner protectors in each corner of panel to prevent LED to be damaged,
especially more security for transport, installation, operation, assembly and disassembly.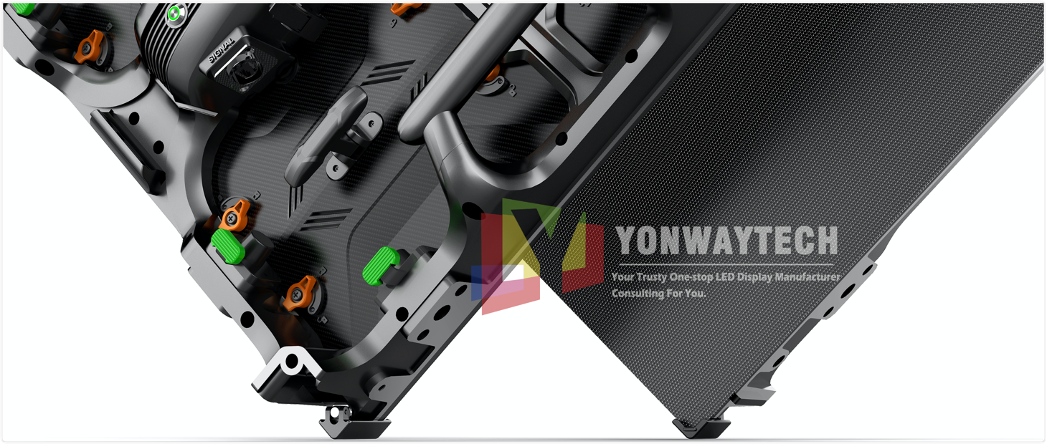 Magnetic elegant led module with high waterproof
Yonwaytech omnipotent series stage rental LED screen adopts magnetic adsorption LED panel with ultra thin design, broadside waterproof interface and installation knob.
Humanization design led panels configured security handle and wires make sure front and rear service in safe and efficient.
Fast replacement woithin 10 seconds,assembly,disassemble with safety protection.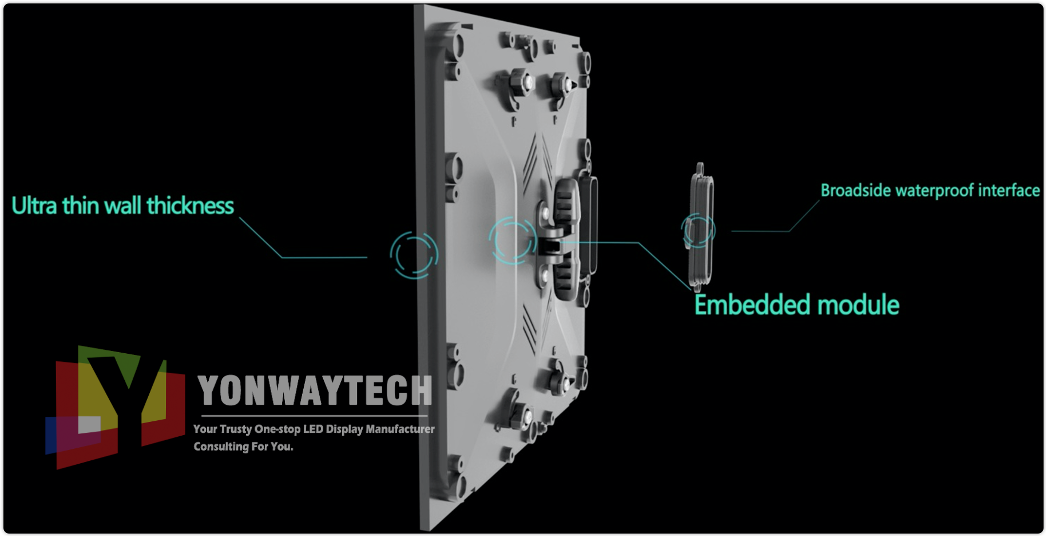 Highly integrated detachable versatile back control box with high IP65 waterproof
Detachable back cover integrated with all componemts like power supply/receiving card/hub board/all kinds of cables,board to board connection but also ip65 waterproof  more reliable.
Fits for both indoor and outdoor use.
Fits all pixel pitches of yonwaytech omnipotent series stage rental LED screen.
No tool needed, rapid replacement.
Yonwaytech always take care of each details of our product to ensure a reliable performance.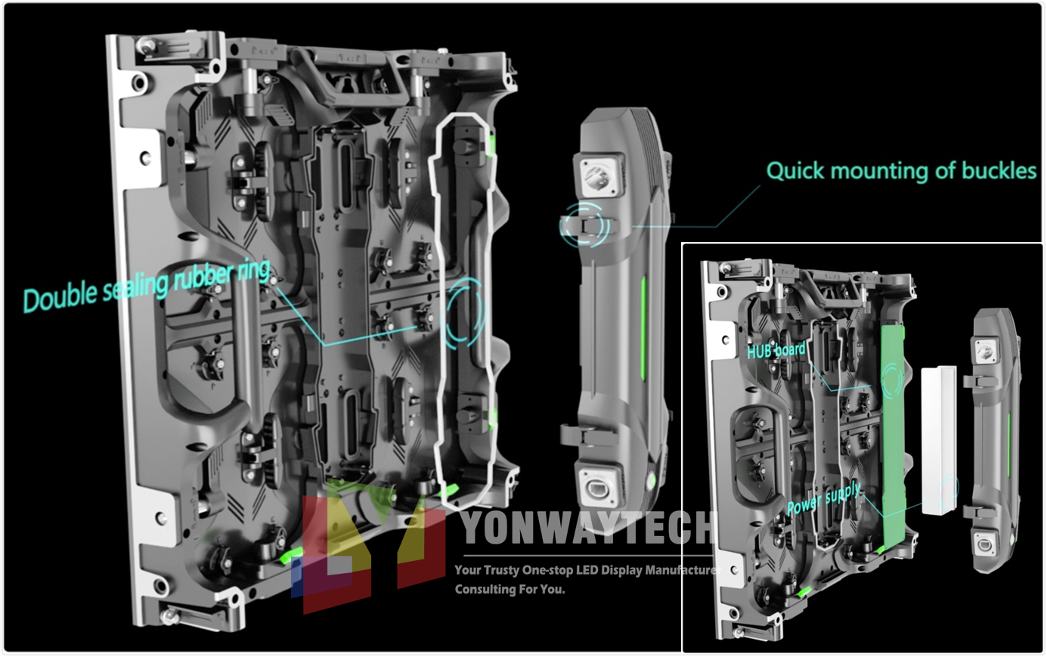 High precision and humanization design curve rotating Lock
YONWAYTECH omnipotent series stage rental LED screen configured with high precision curve Lock design (-10°to +10°) is adopted to solve the problem that the elder generation curved lock is difficult to use before.
Rotational control,more accurate,more easier to use and quickly adjust the curved degree you want.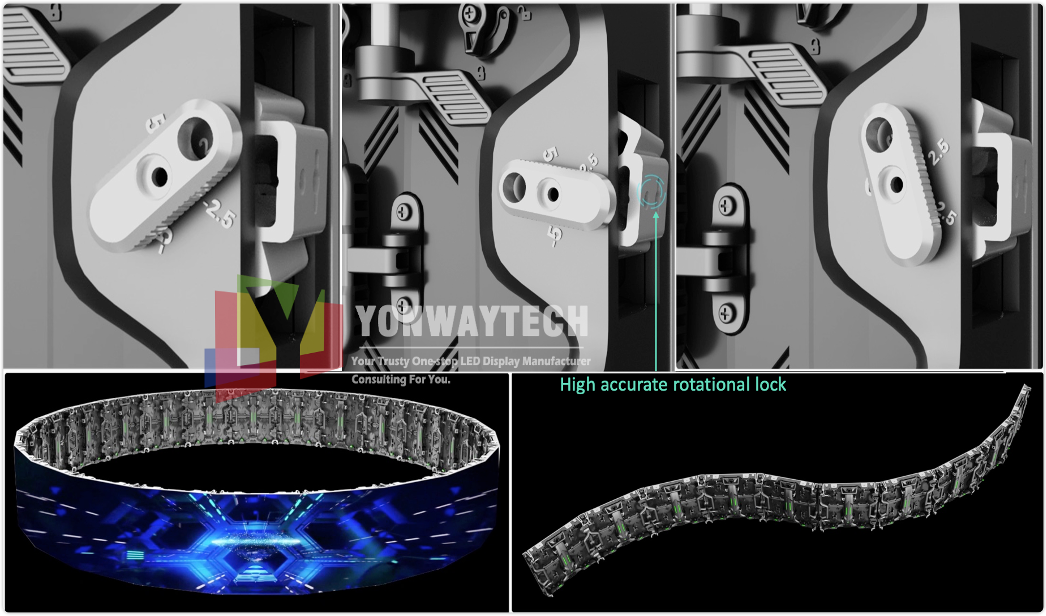 High Refresh Rate, High Contrast, High Grey Scale, Bright Color.
Refresh rate of YONWAYTECH omnipotent series stage rental LED screen can be achieved in 3,840hz fully matching the demand of live feed switching, even under 1/2000 shutter professional camera shooting.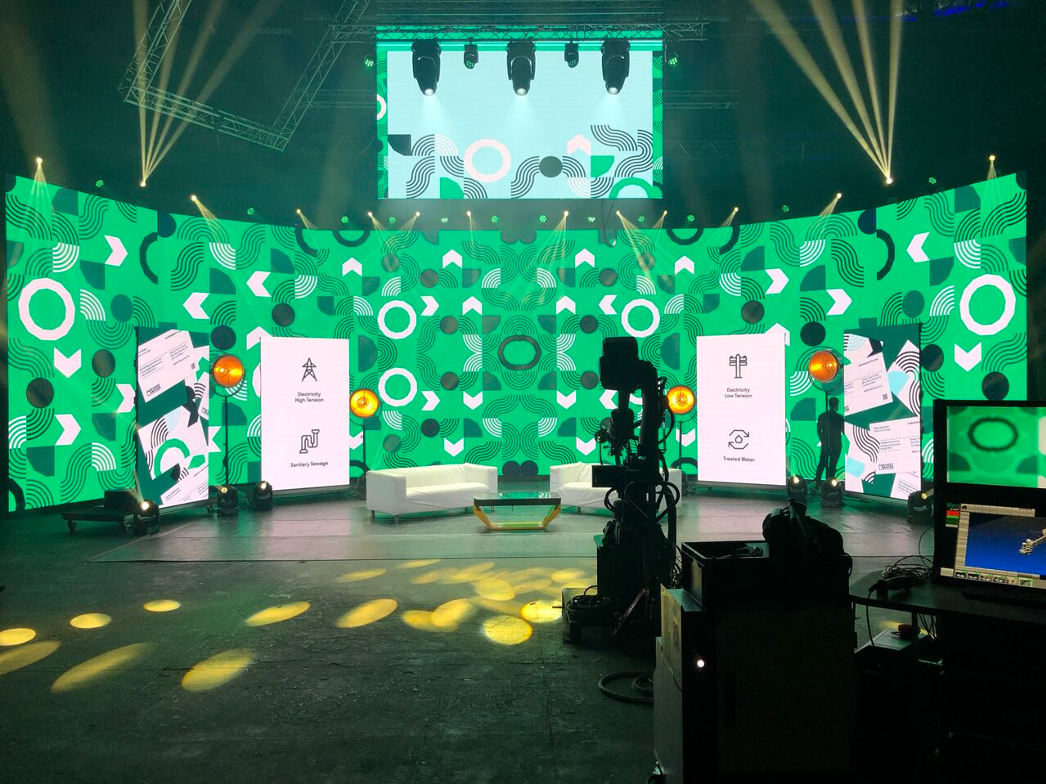 YONWAYTECH omnipotent series stage rental LED screen universal also can be combination installed for fixed led video wall billboard.
Not only good for stage rental temporary use,but also available in digital led billboard fixed installation.
IP65 outdoor water proof makes more reliable.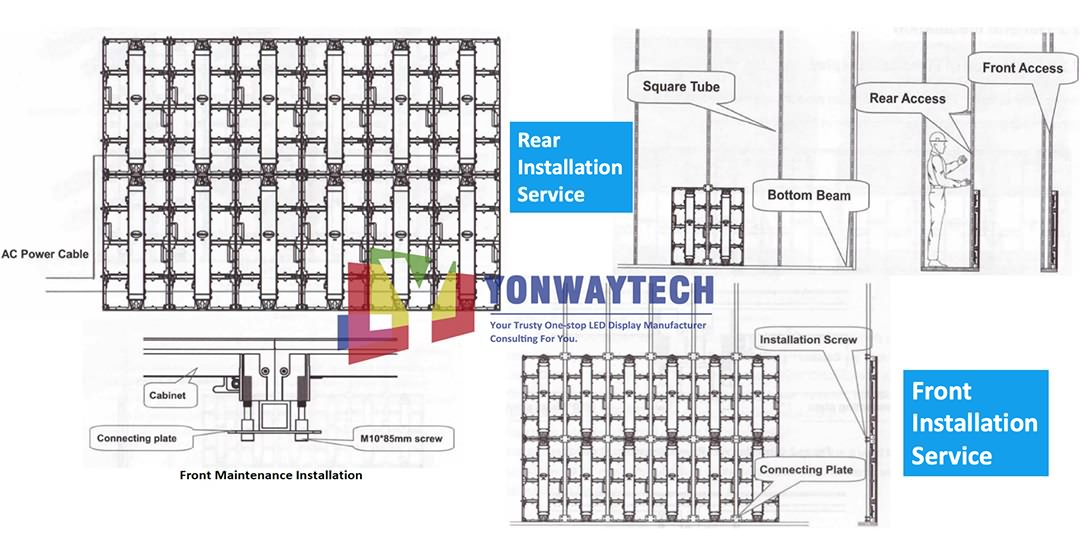 Ultra-wide viewing angle give you the largest screen viewing area.
Viewing angle up to 140° in vertical and horizontal.
Audiences seeing from any angles, the stage rental led display would still being a natural and vivid image.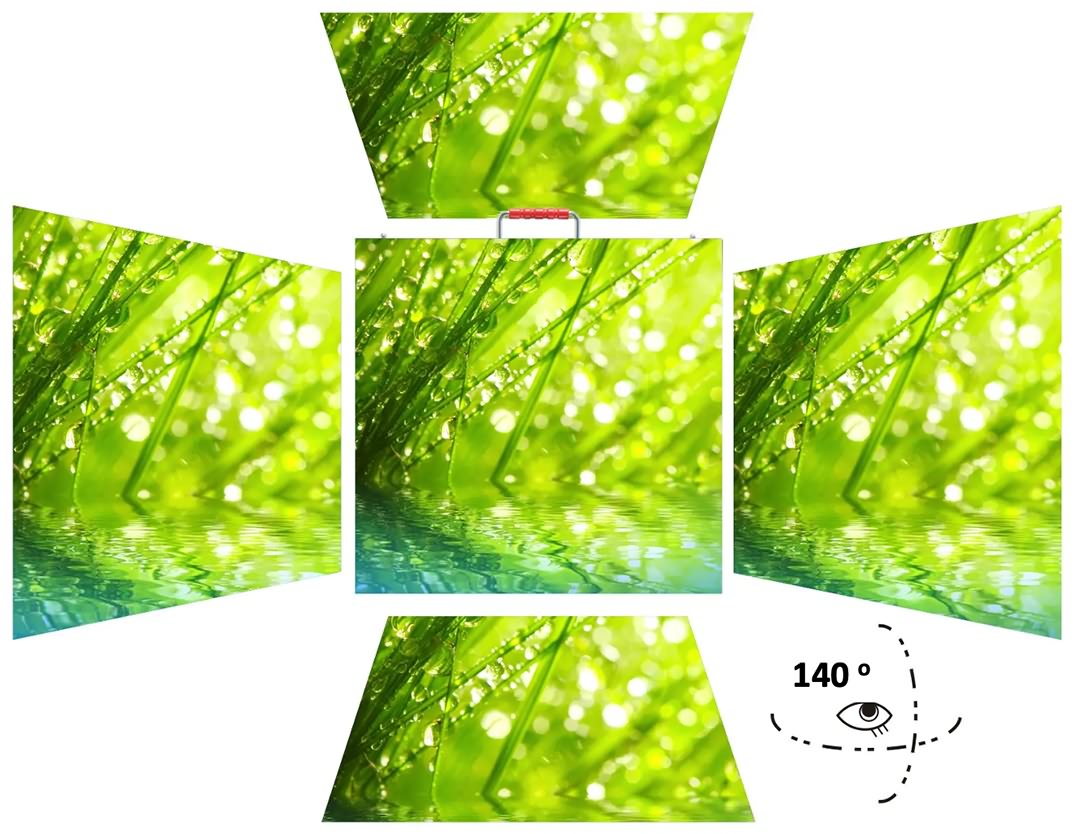 Technical Parameter:
Y-Omnipotent-Stage Event-V01
Model

P1.95

P2.604

P2.976

P3.91

P2.976

P3.91

P4.81

Pixel pitch(mm)

1.95mm indoor

2.6mm indoor

2.9mm indoor

3.9mm indoor

2.9mm outdoor

3.9mm Outdoor

4.8mm Outdoor

Pixel Matrix Per SQM

262144

147456

112896

65536

112896

65536

43264

Pixel Configuration

SMD1515

SMD1515

SMD1515

SMD2020

SMD1415(outdoor)

SMD1921

SMD1921

Brightness(nits)

≥800 nits

≥900 nits

≥1000 nits

≥1100 nits

≥4500 nits

≥4500 nits

≥4500 nits

Scan

1/32

1/32

1/28

1/16

1/21

1/16

1/13

Power Con.(Max/Avg)

200W/sqm(Avg)

200W/sqm(Avg)

200W/sqm(Avg)

220W/sqm(Avg)

200W/sqm(Avg)

220W/sqm(Avg)

200W/sqm(Avg)

640W/sqm(Max)

640W/sqm(Max)

600W/sqm(Max)

680W/sqm(Max)

640W/sqm(Max

640W/sqm(Max)

640W/sqm(Max)

Modules Dimension

9.84" x 9.84"x 0.67" (W x H x D)
250mm x 250mm x 17mm (W x H x D)

Modules Solution

128 x 128

96 x 96

84 x 84

64 x 64

84 x 84

64 x 64

52 x 52

Cabinets Dimension

19.69" x 19.69"x 3.15" (W x H x D)
500mm x 500mm x 80mm (W x H x D)

Cabinets Solution

256 x 256

192 x 192

168 x 168

128 x 128

168 x 168

128 x 128

104 x 104

Cabinets Weight

7.5kg / 16.53 lbs

8kg / 17.64lbs

Cabinets Material

Magnesium aluminum alloy

Serivice Access

Front / Rear

Refresh Rate(HZ)

≥3840

Grey Scale(bit)

16

Color Temperature

4,500k--8,500k adjustable

Viewing Angle(H/V)

Horz.:≥160° / Vert.:≥140°

IP Rate

IP31 / IP 31

IP65 / IP54

Input Voltage(AC)

110V / 240V, 50/60 HZ

Operating Temperature

  -10°C to +40°C / 14°F to 104°F

Lifespan(hrs)

>100,000(hrs)

Transmission Distance

CAT-5E≦120m,Multi-mode Optical Fiber≦500m,Single Mode Optical Fiber≦12km

Cabinet installation type

Fixed digital signage/ Rental stage backdrop

Warranty

2-5 years standard product warranty