HIGH BRIGHTNESS Over 6000nits/sqm.
2.5mm the smallest pixel pitch outdoor led display a HD VIVID RESOLUTION IMAGE AND VIDEO
Achieving a good resolution in the limited space.
320mmx160mm , 160mmx160mm , 200mmx200mm, creative led module optional.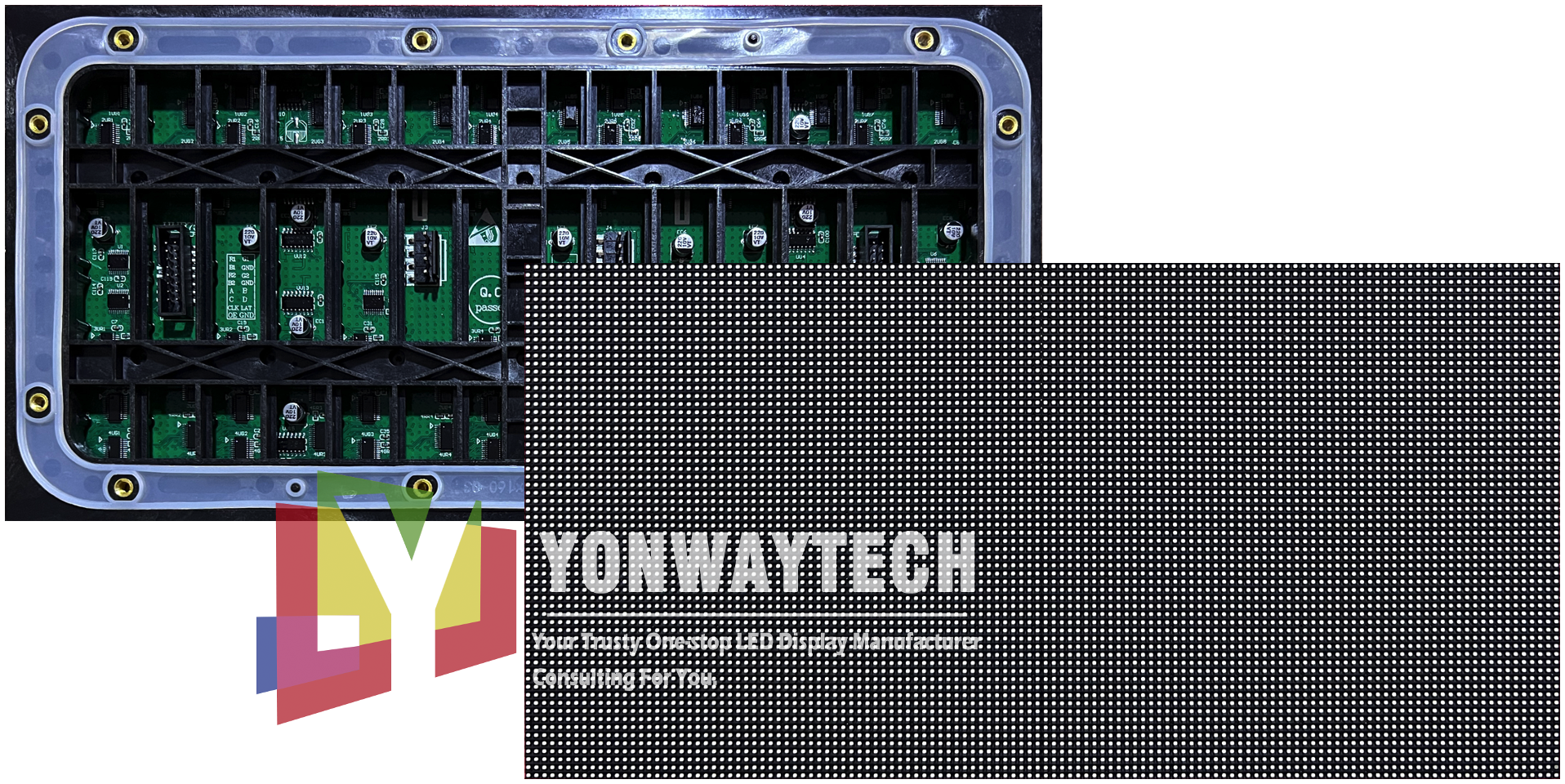 Yonwaytech Exterior HD P2.5 LED Display With Modular Anti UV Mask Configured With Better Contrast In Outdoor LED Screen.
Real outdoor water proof and high brightness HD P2.5 the smallest pitch led module display with good materials and worriless production quality control.
Selected top level led chips configured in 4 layers 2.0mm PCB brings more reliable video in outdoor 4k or 8k HD led screen.
320mmx160mm modular with well front IP65 water proof gluing and rear PCB three-proofing lacquer maximum extend life span  and more vivid video performance.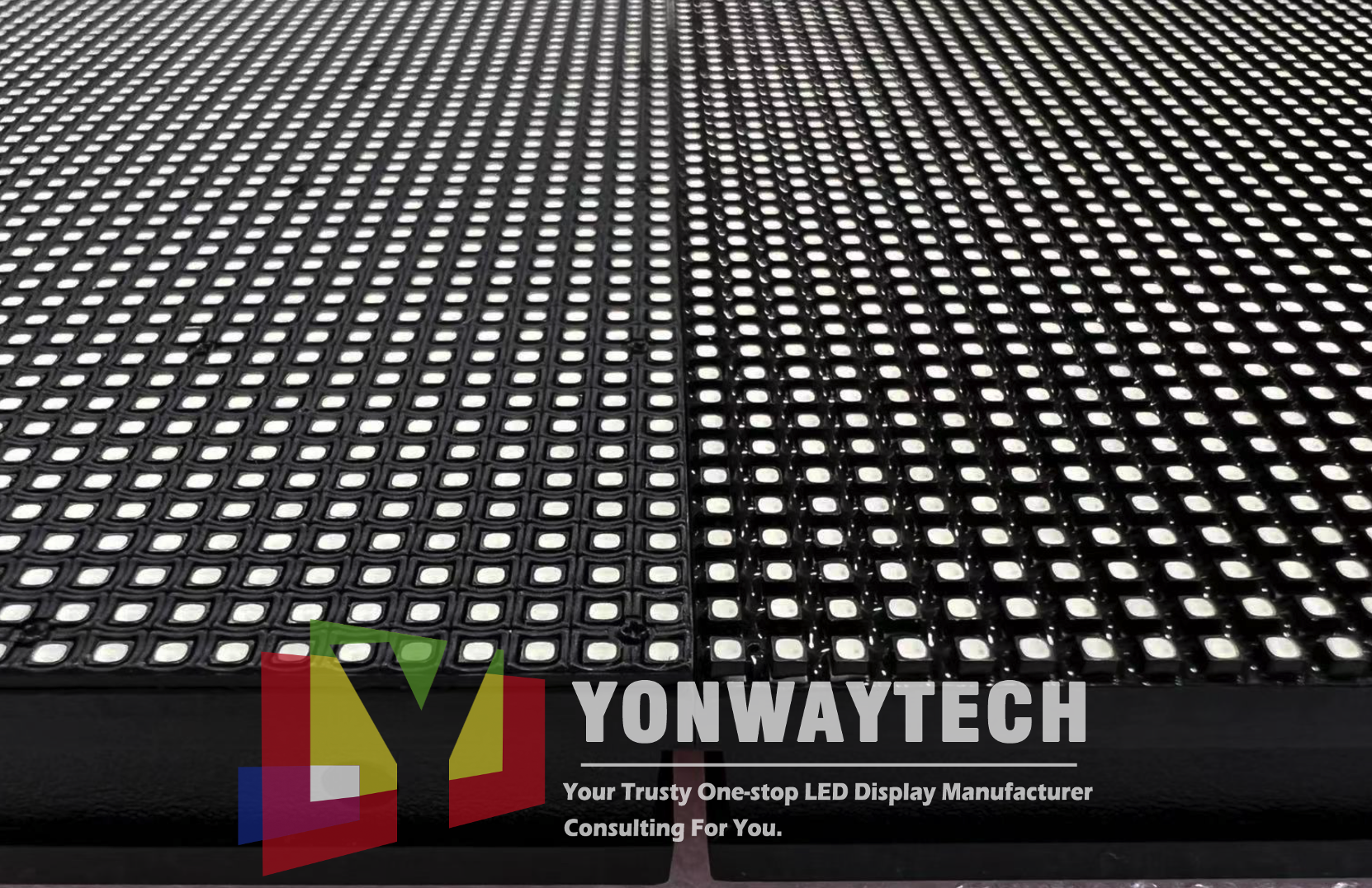 Yonwaytech HD narrow pixel pitch 2.5mm led screen can do a great favor to your HD , 4K , 8K high resolution DOOH business.
Best resolution in real outdoor HD led display 4K / 8K outdoor led video wall.
Modular mask configured brings better proof and vivd video contrast.
High protection grade of IP65 guarantees, durability, reliability, Anti-ultraviolet and steady a long life span led video wall.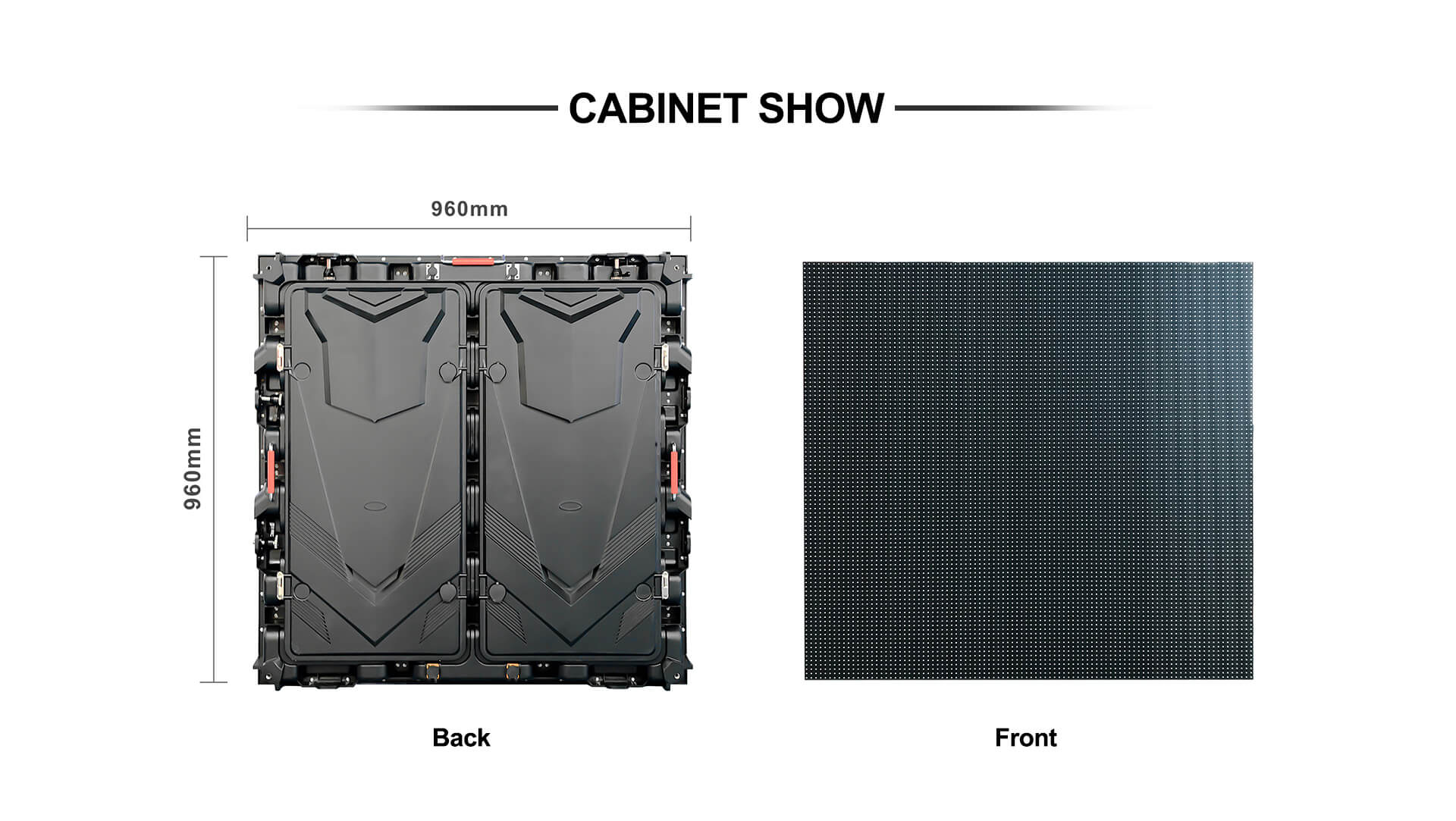 960mmx960mmx100mm ,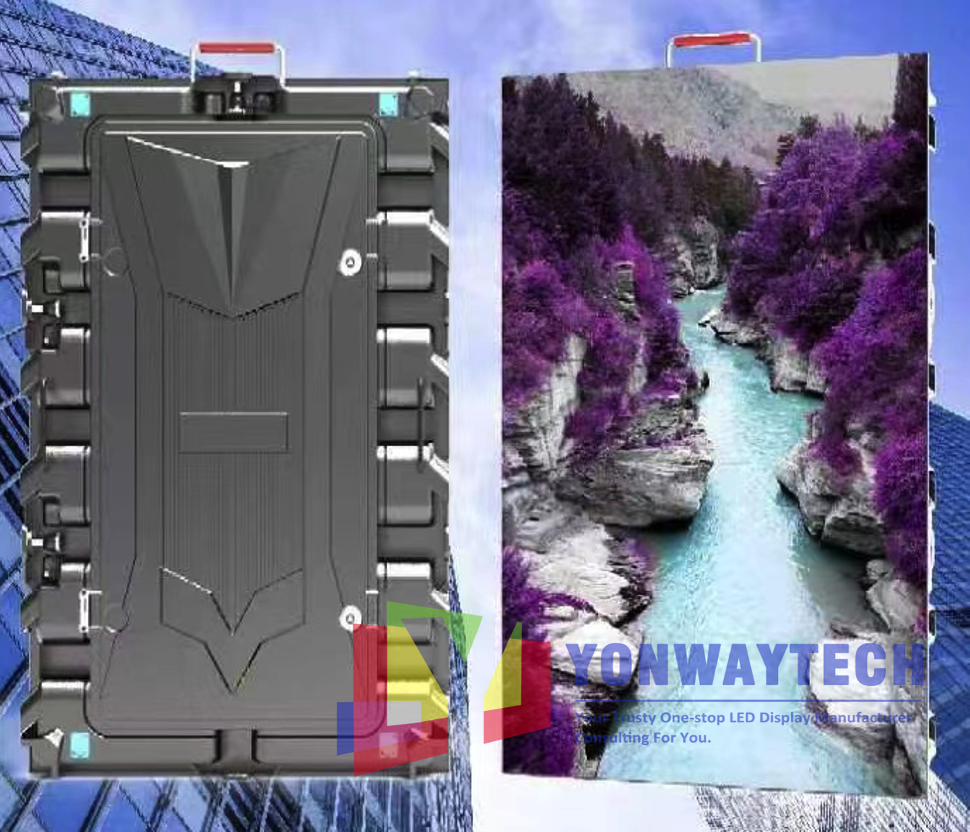 640mmx960mmx100mm ,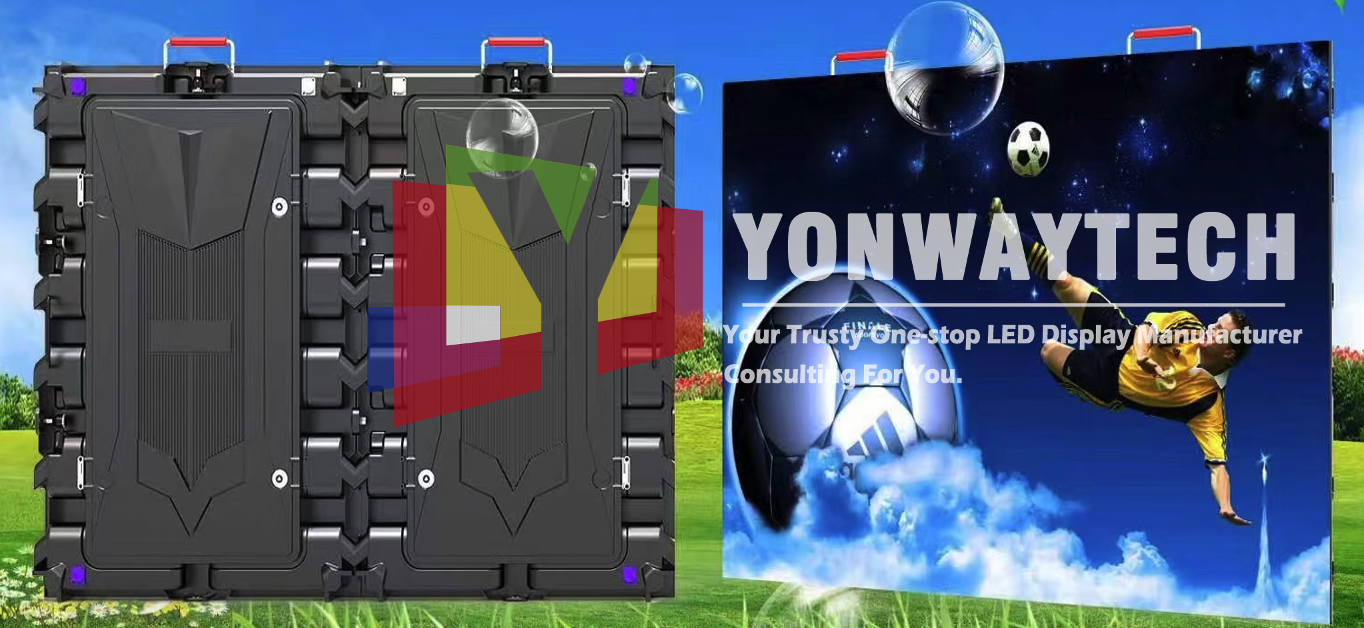 1280mmx960mmx100mm ,
The 3 Different Sizes Of Die-casting aluminum magnesium alloy led cabinet can be in combined installation to the customized led display screen size you need.
Fine standard cabinet with no obvious gaps between the led screen.
Non-deformability function keeps the screen in a good shape and smoothly.
Aerofoil fan cooling immediately,4 fans configured in each 2.5mm cabinet, ventilation volume is 5.6 cubic meter per minute, air circulation 20 times very minute inside the led cabinet. 
High efficiency cooling ensure stable led display.
Metal components of the led screen, the shell of power supply and the cabinet with well grounded, and the grounding resistance should be less than 10Ω.
Prevent electrostatic damage to electronic devices in humid environment, while avoiding electric leakage to harm human being.
Die Casting Aluminum Magnesium Alloy light Weight Cabinet Good For Both Fixed LED Billboard Or Stage Rental Backdrop Led Screen Video Wall. 
Also available in stadium perimeter led display used as sport led screen with Yonwaytech customized service.
Ultral light weight and slim cabinet,960mm×960mm×100mm with only 26kg /cabinet. 
Sides fast locks and locating pin more easier in operation.
High standard 320mm×160mm LED module configured in 960mm×960mm×100mm , 640mm×960mm×100mm , 1280mm×960mm×100mm die casting aluminum magnesium alloy cabinet also available pixel pitch
in p2.5, p3, p3.3, p4, p5, p6, p6.67, p8, p10…… for indoor or outdoor use.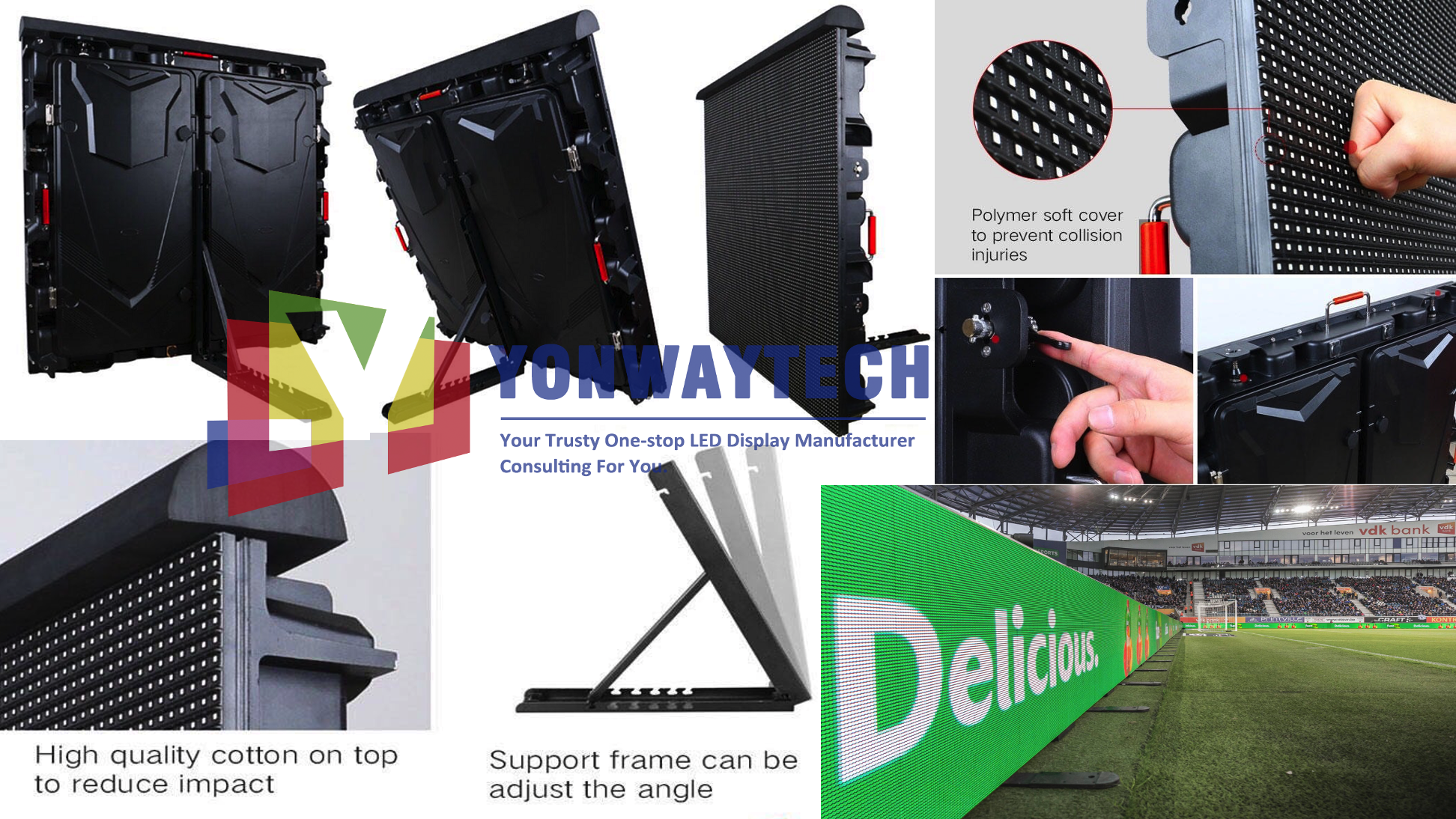 Excellent independent waterproof module and the waterproof enclosure with excellent sealing performance to protect cabinet, which is a perfect dust proof, waterproof and corrosion resistant, and the protection grade is up to IP65.
All-weather for outdoor environment, can work smoothly in any weather condition.
Viewing angle is up to 160°vertical and 140°horizontal, providing a wide viewing angle.
Ultra-wide viewing angle give you the largest screen viewing area, more eye balls catching.
Technical Parameter:
Y-Of2.5-320×160-1/16-V01
LED Chip Specification

LED Display Specification:
| | |
| --- | --- |
| Item | Technical Parameter |
| Panel No. | Y-Of2.5-320×160-1/16-V01 |
| LED Type | Nationstar SMD 1415 |
| Pixel Pitch | 2.5mm |
| Pixel Configuration | SMD 3 In 1, 1R1G1B |
| Module Size | Horz.: 320mm× Vert.: 160mm× Thk.:16.5mm Modular Mask |
| Module Resolution | Horz.: 128dots×Vert.: 64dots |
| Density | 160000dots/m2 |
| Brightness | ≥6000nits/m2 |
| Scan Solution | Constant 1/16 |
| Drive IC | ICN2038S & 2160Hz PWM, 3840Hz Optional. |
| Contrast Ratio | 3000:1 |
| Power Consumption | ≤1000W/ m2 (MAX), ≤380W/ m2 (AVG) |
| Net Weight | 540G/Module, 27KG/ m2 Cabinet. |
| Gray Scale | 16Bit |
| Color | 281 Trillion |
| Refresh Rate(Hz) | 1920Hz—3840Hz |
| Viewing Angle | Horz.: 140, Vert.:120 |
| Color Temperature | 6500K |
| Frame Frequency | ≥60Hz |
| Failure Rate | ≤1/1,000,000 |
| MTBF | ≥10,000 Hours |
| Control Mode | ASYNC Via WIFI/4G,SYNC VIA PC By USB/Net/HDMI Optional |
| Best View Distance | ≥3m |
| Control Distance | CAT 5:≤120m;Multi Mode Fiber≤500m;Sigle Mode Fiber≤20km; |
| Working Temperature/Humidity (℃/RH) | -20~60  / 20%~85%RH (NO CONDENSATION OF MOISTURE) |
| Storage Temperature/Humidity (℃/RH) | -20~60  / 20%~85%RH (NO CONDENSATION OF MOISTURE) |
| Display Mode | 1024*768,2K,HD,4K,8K |
| Maintain Mode | Rear |
| Power Supply Requirement | AC90~264V,Frequency 47~63(Hz) |
Yonwaytech Outdoor LED Display Production Process:
---
Next:
---